Okay, I know I promised just a couple paragraphs ago that I wuz gonna finish the new book before I do much of anything except eat, sleep and pee, but I have a couple commitments coming up that I just GOTTA do (besides, they sound like fun!) and so I'm hoping some of you can join me at/on:
FRIDAY-SUNDAY, April 25-27: THE HSR's WALTER MITTY CHALLENGE AT ROAD ATLANTA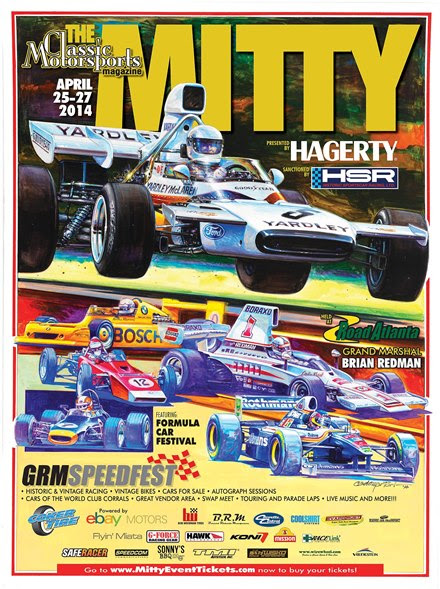 This is truly one of the premiere fun motorsports events on the season schedule, and my good friends from the "other" major vintage magazine (Classic Motorsports) have done one hell of a job promoting it and turning it into an even bigger free-for-all car race/car show/car party than it was back in ze olt dayz. The Mitty is always good fun, and I recommend it highly if you happen to be in the area.
In any case, I'll be mooching a few rides, schmoozing until I'm hoarse and hawking books with my friends Amy and Frank in the PEOPLE KARS tent up on the vendor midway above the pro pits. Sadly, an unexpected phone call from my racing pal George Wright about a half-hour ago informed me that I would NOT be co-driving his nifty Datsun Z-car in the enduro as we had planned. 
Seems George and the Z were down at VIR this weekend (see paragraph 4 up in the blue part above) and a clearance problem with an errant piece of underneath sheet metal rubbing through a rear brake line fitting caused George to exit the track at high speed (and pretty much brake-less) going into VIR's Turn One. I understand he would have made it all the way to the horizon only there was a wee barrier in the way at about half-distance. Damage wasn't too horrendous but, as George put it, "the front-end looks kinda like a dirt-track modified" and the car needs a little down time to make it pretty again and execute a wee re-think on the braking system.
Although I'm surely disappointed, I'm sure as hell glad it wasn't me in the car when the brake pedal went to the floor.
Been there.
Done that.
Threw away the underwear....
So, as of about 45 minutes ago, I'm looking for alternate enduro ride opportunities at Road Atlanta. Possible magazine stories included.
And, yes, I'm totally shameless.
SUNDAY, MAY 4

, GILMORE CAR MUSEUM, HICKORY CORNERS, MI. 

3PM

:
 I'll once again be shooting my mouth off & hawking books afterwards as guest speaker in the Heritage Theater at the Gilmore Car Museum in Hickory Corners, Michigan (just outside Kalamazoo and about halfway between Chicago and Detroit off I94)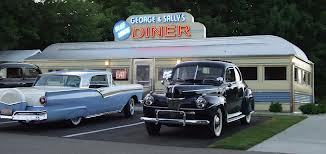 If you've never been, the Gilmore Museum is really something special. Set in pastoral Michigan farmland, the museum is an entire campus featuring 14 individual buildings and attractions. Plenty of neat old cars on display, a steam barn, a dedicated Pierce-Arrow collection (what magnificent machines!), a re-created 1930s Shell station, a fifties-era diner (above), an old Ford dealership chock full of Model As etc. etc. Great place to wander and wonder around and guaranteed to put a gleam in your eyes! Here's a link to their website:
As for the presentation, I'll most likely be doing a lightly modified encore of the power point show I did at the Motor Racing Research Center in Watkins Glen last December. It's mostly about the books and me and my dumb adolescent car adventures and half-assed racing career. It got quite a few laughs in upstate New York (and the wine wasn't served until afterwards!) and even wife Carol said it wasn't too hateful and didn't run on too long. So join us if you can.
MONDAY, MAY 5th

, INSTRUCTING for HOOKED on DRIVING at AUTOBAHN MOTORSPORTS COUNTRY CLUB, JOLIET, IL.: 
Yeah, it looks like I'll be climbing into that wrong-side seat again so I can try to tell people who are already scaring the living crap out of me to go even faster. Is this any kind of job for a nice Jewish boy from the suburbs? Seriously, I enjoy the instructing a lot. When you get a good student, it's almost as good as doing it yourself, and you get to see that wonderful light coming up in their eyes as the day goes on.
When you get a bad student, on the other hand, it's the worst day on planet earth!
But HoD runs a good program and I've always had fun and enjoyed it. Especially when somebody with a really, really neat car says: "would you mind showing me how?" See my reaction below: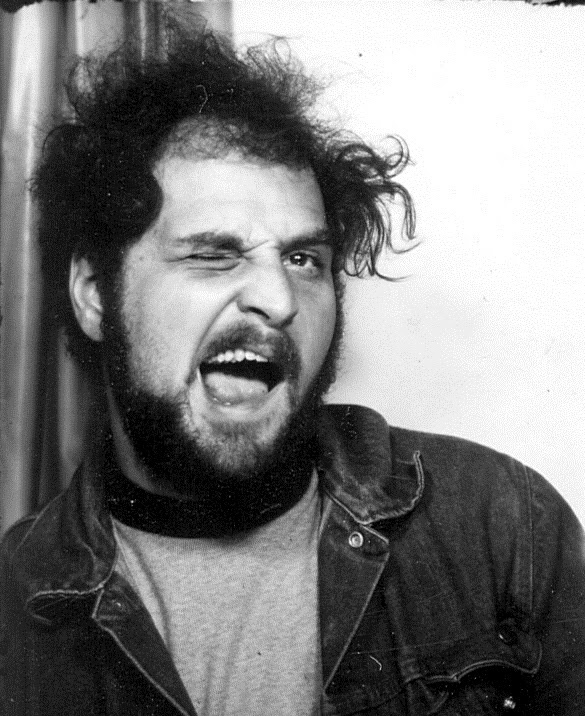 Bye for now...more soon