Fuelfed Fun!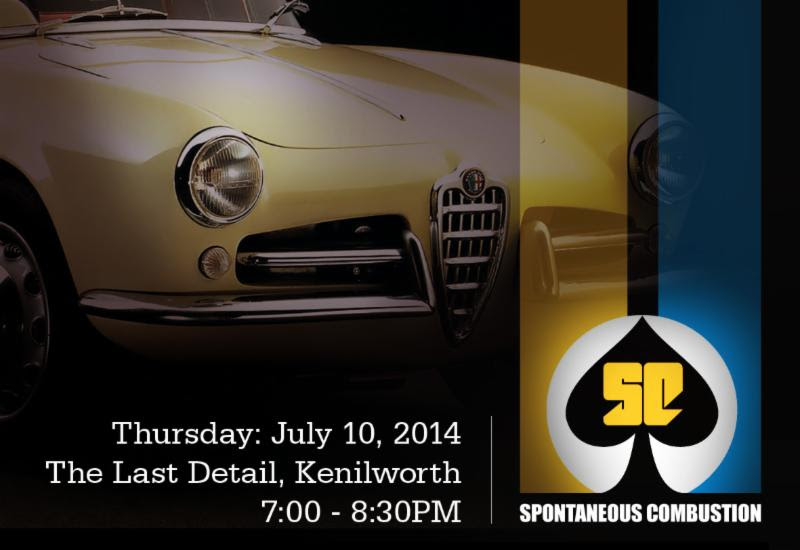 Thanks to a guy named Brian Hughes (who would probably rather remain anonymous), there's a bunch of loosely organized & purposely under-the-radar local car crazies who do several relaxed, informal, eclectic & thoroughly enjoyable "coffee and classics" street shows around Chicago's generally posh North Shore each year. They also do these so-called "spontaneous combustion" gatherings at various Places of Interest that are more-or-less motorized Flash Mobs of neat cars and the neat people who own, are attracted by or find themselves incurably addicted to them.
The point here is that there was one last Thursday at my friend Tom Snellback's nifty The Last Detail Galleria in Kenilworth, and so Carol and I decided to attend (there was a nice meal at a nearby restaurant that serves organic chicken thrown in for spouse sugar).
Now Tom used to race with us quite a bit (and he was damn good at it, too) but he's been busy the last many years running his successful and highly respected The Last Detail restoration shop & showroom up in North Chicago, IL. But I'd never been to his new showroom/art & memorabilia gallery on Green Bay Road (just about a mile from where I grew up) and it is really something special. Made even more special by all the hot and cool cars the Fuelfed "spontaneous combustion" types arrived in! We had everything from an elegant (if slightly shopworn), Chapron-bodied 1950 Delahaye coupe to a sharp red Alfa Montreal to an incredibly sanitary and only slightly rod-ized early fifties Dodge wagon (mit small Hemi, of course) to a rather tatty but charming blue Ferrari 250GT Pininfarina coupe, plus the usual and expected XKEs, upright & arthritic Brit 4-bangers, Alfa Giuliettas, Duettos, GTVs, etc., Porsches of every conceivable age and description and an absolutely GORGEOUS, just finished & beautifully detailed TVR2500 with a Rover aluminum V8 (the old GM Buick-Olds-Pontiac aluminum V8 second-handed to the Brits) stuffed neatly inside. The thing was molten-lipstick red with white racing stripes, and it really brought a smile to the faces of both wife Carol and myself on account of we courted in a similar car (see below) back when I had an excruciatingly serious case of TVR-itis (from which, to be honest, I've never fully recovered).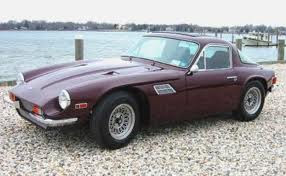 I didn't own the TVR, of course. It was a 1973 2500M "demo" that I'd somehow schmoozed local distributor Bob Neal out of with heartfelt and well-intentioned (but sadly ultimately empty) promises of opening new dealerships for him while I was on business trips for my dad's packaging company. You'll find the full story in "From Blackpool to Biloxi" in my POTSIDE COMPANION short-story anthology.
Anyhow, Carol's highly conservative doctor dad was none too pleased when I came zooming up to his house in that low, stubby, snotty, raspy little TVR. But after a closer inspection (particularly the deep, narrow bucket seats and the high, wide and thoroughly insurmountable frame/driveline center console in between) he started liking the 2500M a bit more! We had a lot of grand (and not-so-grand) adventures with that car, and later on, when Carol and I had our shop, we probably worked on about two-thirds of the entire TVR population of greater Chicagoland. Or, in other words, about 8 cars....
There were a lot of neat cars (all of them for sale, of course) inside the Galleria as well, including a perfect white Alfa Giulietta, a handsome red La Salle (Cadillac's attempt at a slightly down-market line) cabriolet from the thirties and an absolutely stunning and original '63 Buick Riviera.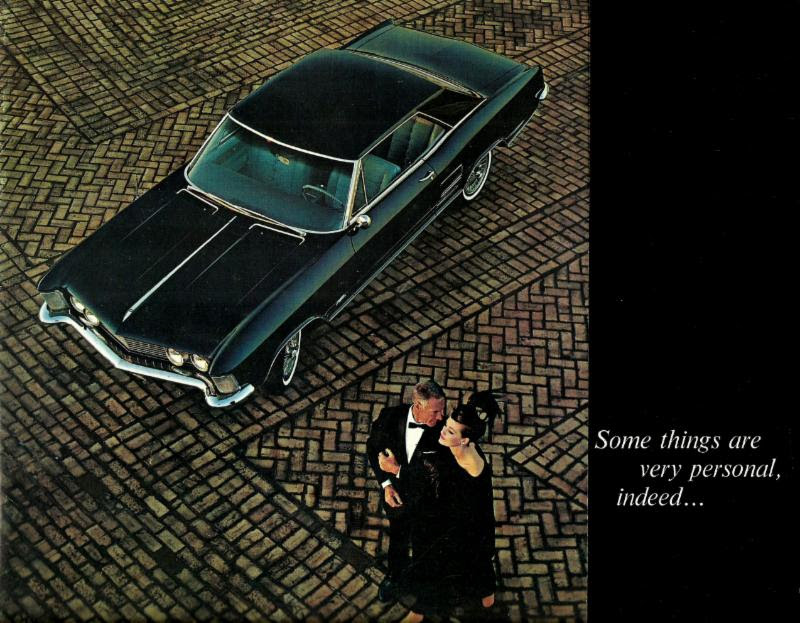 As a car-crazy kid on the verge of his very first driver's license, I thought the '63 Riviera was a revelation. The shape, the sculpturing and the lack of flashy and/or tacky chrome trim really made it stand out from the rest of the Detroit "big" cars, and no question it was sleek, suave and sophisticated as all getout. Even if a few people's moms were driving them.
A Mile of Smiles 
Come next morning it was up early and off to one of my very favorite events, Millers at Milwaukee on the hoary old 1-mile oval at State Fair Park in West Allis, WI. I'm pretty sure The Milwaukee Mile is the oldest continuously operating racetrack on planet earth (it held its first contest of speed in Sept. of 1903) and, believe it or not, I saw my first-ever car race of any kind there back when my folks took my brother and I to the Wisconsin State Fair sometime in 1951-52. I remember not being overly impressed by the sights (not to mention smells) of the cattle, pig and poultry pavilions, and how many jars of jam and preserves can you look at? And I was memorably terrified by some of the rides. But then we went into the stadium to watch the midget cars race,  and I had a bit of a childhood epiphany right on the spot. It was loud, it was colorful, it was exciting, it was dramatic...and no question it was addicting. Some guy in a black car with gold numbers had everybody covered--just--but then he had to make a choice to get around some lapped traffic and he went high as some other guy in a red car shouldered his way into a hole that wasn't really there on the inside, bullied his way through, startled the lapped car into jerking to the high side and just that quick the guy in the black car got pushed way up into the soft stuff, banged off the outside wall a little and was all the way down to seventh or eighth by the time he got back in the queue. But he fought his way back--you could see he was the quickest guy out there (or, as I would come to find out later in life, had the best car or the best motor or the cleverest mechanic or the most money or...) but the best part was discovering that grown men were somehow getting away with doing this for a living.
I knew before we left the stadium that I wanted some of that!
So I got involved the only way I could
I bought a model kit....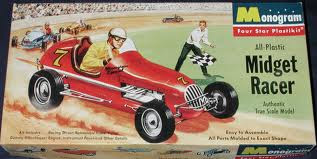 Anyhow, Millers at Milwaukee was again a fabulous experience (even if the rains came Friday afternoon and persisted in near-biblical quantity through Saturday). But instead of boring you with more of my chatter (blah-blah-blah), let me just show you some pix: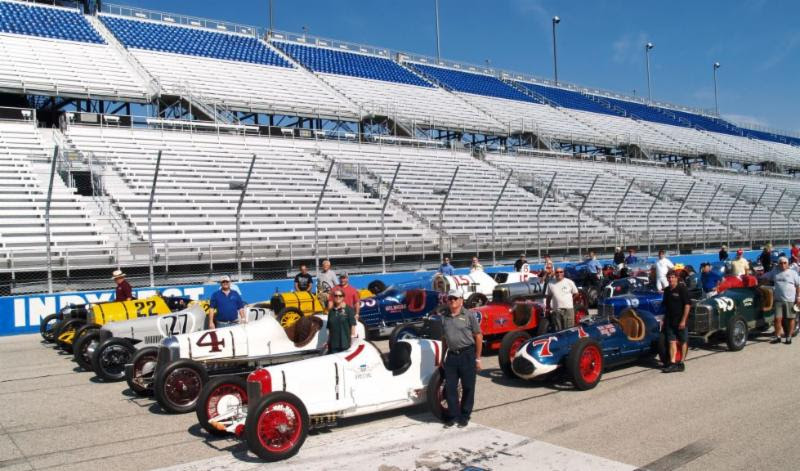 Cars lined up for the "official" photo shoot Friday morning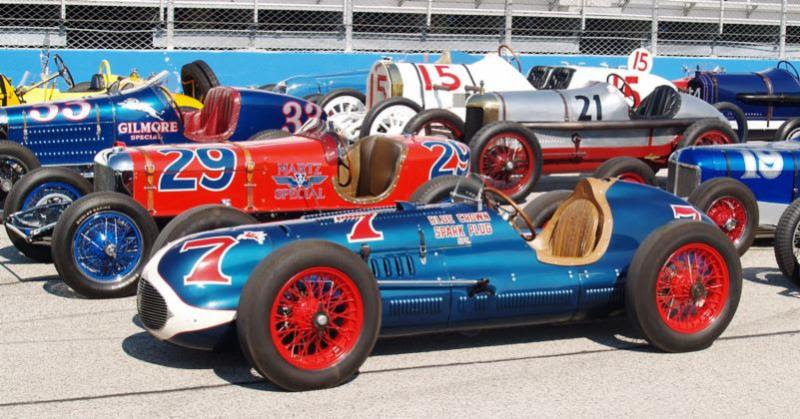 The famous, front-running & fabulous Blue Crown Special.
Below: Classic Indy Car Heraldry: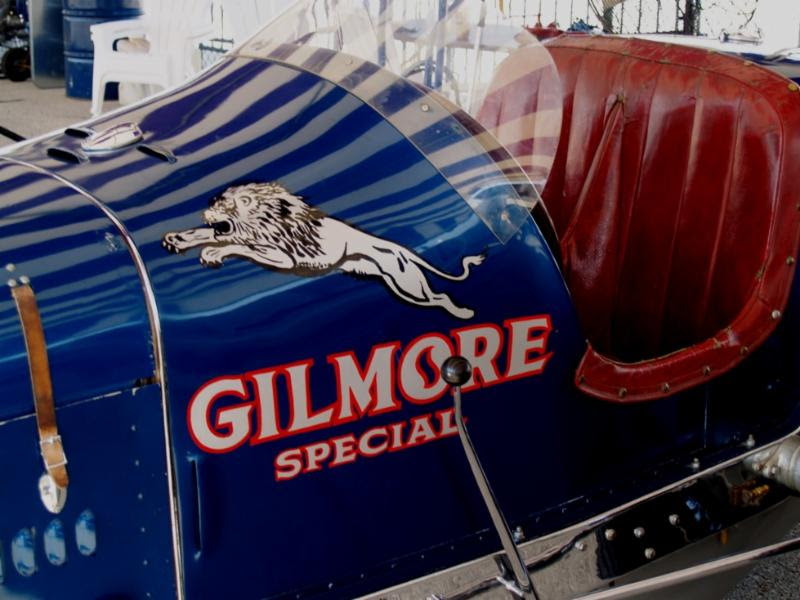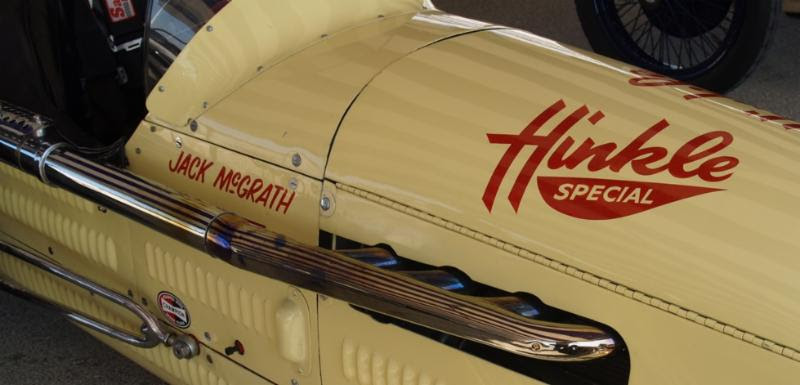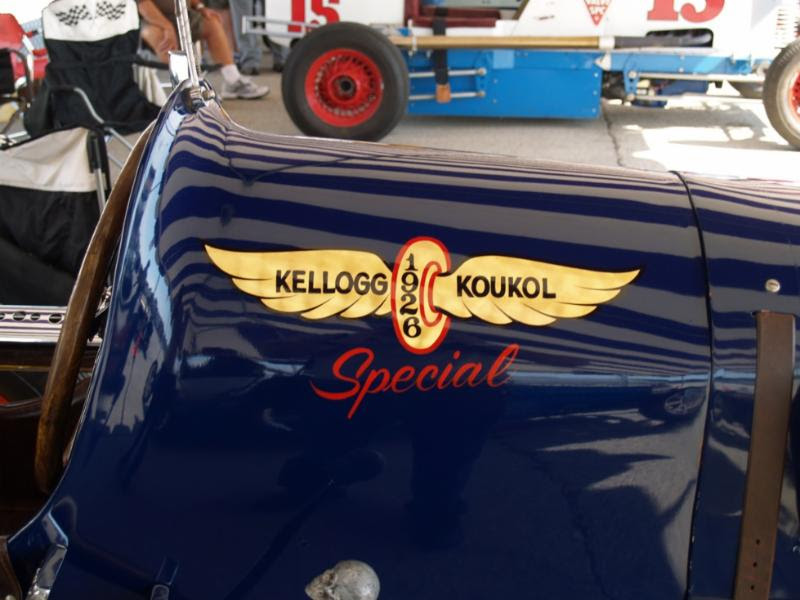 Multiple Le Mans, Daytona and Sebring winner Hurley Heywood in Dan Davis's newly toy:
acecar restoration icon Phil Reilly works on his own ex-A.J. Foyt/George Bignotti Bowes Seal-Fast Special.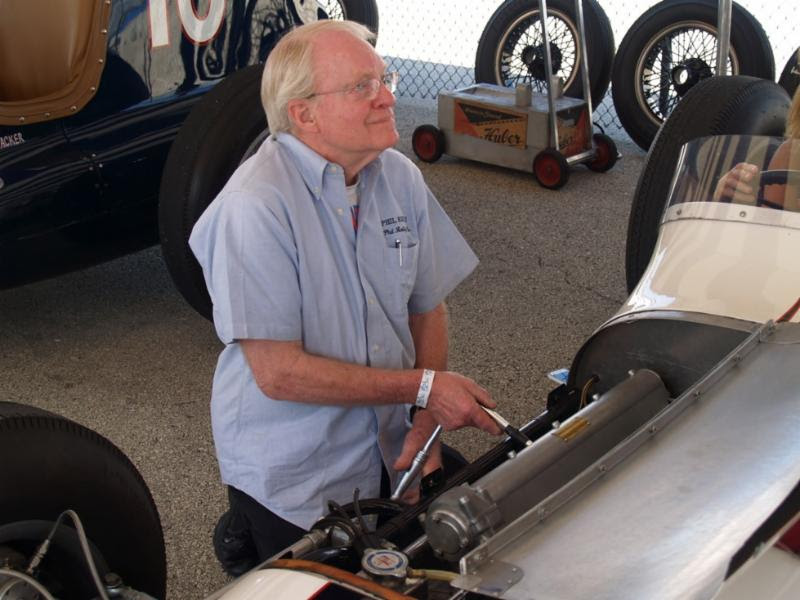 Had a fascinating chat with Phil about some of the unusual and unique chassis-design features of this car, most of which he credits to innovative & creative engineer/fabricator Quinn Epperly (even though the car is one of a very few Frank Kurtis chassis with its Offy engine laid over on its side). Epperly worked with Kurtis and other car builders, but Reilly gives him sole credit for the unique & clever parallelogram steering link/lower trailing arm setup that eliminates bump steer in the solid-axle front end and the "shackled" links to the torsion bars that keep them from compromising the front-end geometry (particularly the caster) as it goes through its travel.
It's always a special day when you meet interesting people and learn something new...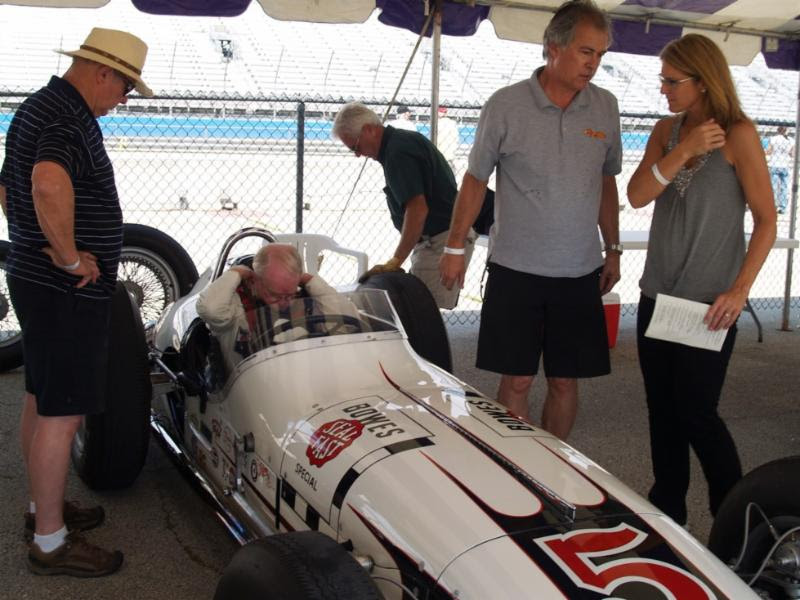 Phil getting buckled in for a track run. Gorgeous girl on the right is Ellen from the Indianapolis Motor Speedway Hall of Fame Museum.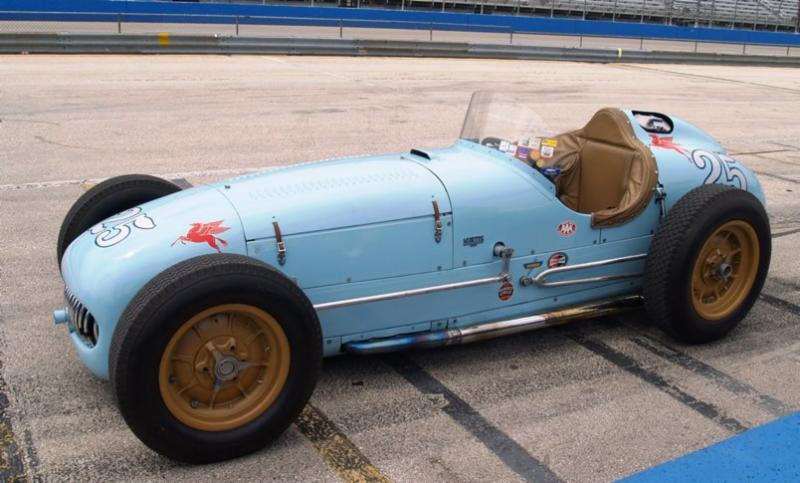 Ultra-rare Chrysler Hemi-powered Kurtis.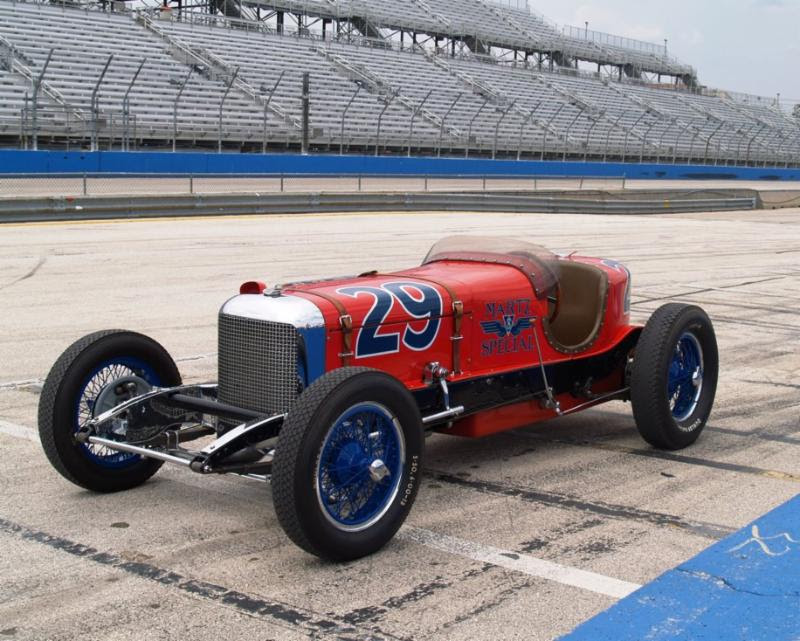 The Martz Special.
So it was a pretty great way to spend a 

Friday

, even if I didn't get to drive anything on account of the rains came and I had to scramble like mad just to tear my booth down before everything got wet. Books don't like water very much....
The Home Front
Spent a nice (if rainy) 

Saturday

 with Carol, going to our favorite

8am

 bike class at the health club, then reversing whatever good we might have done by having breakfast at out favorite brunch-munch spot (Blue Max Coffee at 26 Lathrop in Forest Park, IL...well deserved plug) followed by errands, grocery shopping and the usual, non-racing-weekend routine. My travel schedule gets a little hectic sometimes, and we really relish our mundane but ultimately relaxing & rejuvenating Saturdays & Sundays together when I'm in town. Just lovely.
But give me a week of it and I'm pacing the floor like a freaking caged animal again.
I mean, you don't want to miss anything, do you?
Lapping Up Laps
Fortunately for all involved, it was back to a racetrack again 

on Sunday

 to instruct for the Hooked on Driving bunch at Autobahn Country Club. We were on the South track (roughly 2 miles) and I had a couple decent students (plus one who turned out to be REALLY good) and then Eric Eismueller, who runs the Great Lakes division of Hooked on Driving, let me loose for a few laps in one of the brand-new Corvette Stingray Z51s.
Good fun, very fast & user-friendly and quite an impressive & effective track weapon (to say the least!). My dad had a couple of the old solid-axle Corvettes (a '60 and then a '61) back when the earth was still flat, and how those rattly old "sports trucks" evolved into the current article is truly amazing. Kudos to the folks at Chevy for a job well done.
Now about those ignition switches....
Speaking of Hooked on Driving (and track days in general) I'm surprised more people don't take advantage of them. It's a great opportunity for you high-performance street or car-show types (like the Fuelfed folks, for instance) to go out and drive your toys at speed a bit with no cops, oncoming traffic or telephone poles to worry about. It's great fun, strictly non-competitive, the cars are grouped by driver experience rather than car type and you only need to go as fast as you feel comfortable. And for you racers (vintage or otherwise) it's an incredible chance to wring out a new ride, break in a just-finished or freshly rebuilt racecar, do a little engine tweaking, chassis tuning, fool around with tires (or tire pressures), let your friends or crew guys give it a try in return for all their hard work (and, no doubt, low pay) and enjoy literally hoursof unmolested running in a relaxed, user-friendly racetrack environment. It's also not very expensive (at least compared to a race weekend, anyway) and there are lots of events at a variety of different tracks to choose from. Like the Hooked on Driving folks will be up at Road America the day after the big Tudor pro sports car race (

Monday, August 11th

) and wouldn't you just love to turn your favorite car (and yourself) loose for a day around Road America. At speed. And with coaching/instruction available if you need it. Here's their link if you want to know more: HoD GREAT LAKES.
Had such a good time I came back the very next day (as guest of my new friends Michael & Michelle Kopper) to attend a LAPS, Inc. track day on the twisty-turny full track (3.56 miles) at Autobahn. Now Michael owns the beautifully hideous (or is it hideously beautiful?) KTM X-Bow I drove a Blackhawk a few weeks back, and he kindly invited me to drive with he and wife Michelle and their friends again at Autobahn.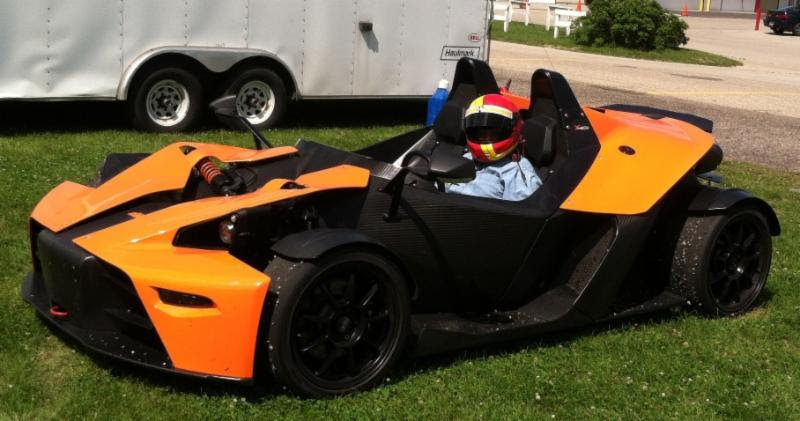 Unfortunately, the KTM developed a LR tire problem, but Michael had also brought along a couple Spec Miata racecars as backups, and we had a fabulous time just flogging them around. The LAPS bunch (click HERE for link) make it feel more like a friendly local driving club rather than a track-day business, and it attracts a lot of neat cars of every possible description and a bunch of people who really seem to like and get along with each other.
We had several Lotus Exiges and Elises, the usual Japanese, German and American track-day berserkers, a nifty and tricked-out old vintage Camaro (think it was a '67), some PCA Porsche racecars, (you know, with the bulged-out fenders, huge, fat tires, noisy exhausts and ridiculous rear wings) plus no less than two of those fake (pardon me, "homage") Cobra Daytona coupes. Hey, at least the owners were putting them on track rather than just polishing their bloody chrome air cleaners. Somebody even showed up in an incredibly sexy-looking, deep metallic blue Lamborghini Aventador. Lotsa oohs and aahs for that one. Not to mention for the bit of crumpet inside. Wonder where you check that one off on the old order form....
Anyhow, it was a spectacular day with [mostly] great weather, and I had a ball flinging one of Michael's Miatas around. That's still the best damn 4-banger British sports roadster ever built, even if it did come from Japan. I've had a long and highly rewarding track relationship with assorted Miatas (all borrowed, of course) including a NASA race at Las Vegas Motor Speedway one August (we ran mostly early in the morning and at night under the lights, since not even the scorpions come out in the midday sun) and I had an absolute ball.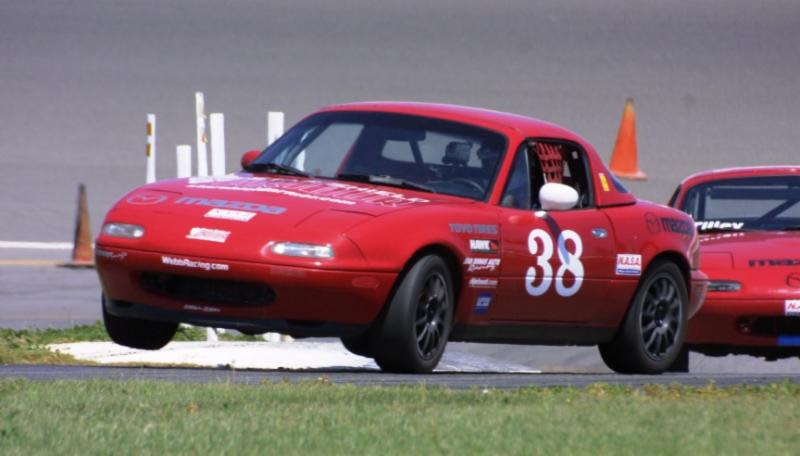 Also had a fun run in the MX5 Cup Pro Race at Road America thanks to my longtime friend (I used to race against his daddy in Midwest Council back when he was in diapers) and current Mazda motorsports head honcho John Doonan. As you can see below, we had a wee bit of precipitation during qualifying...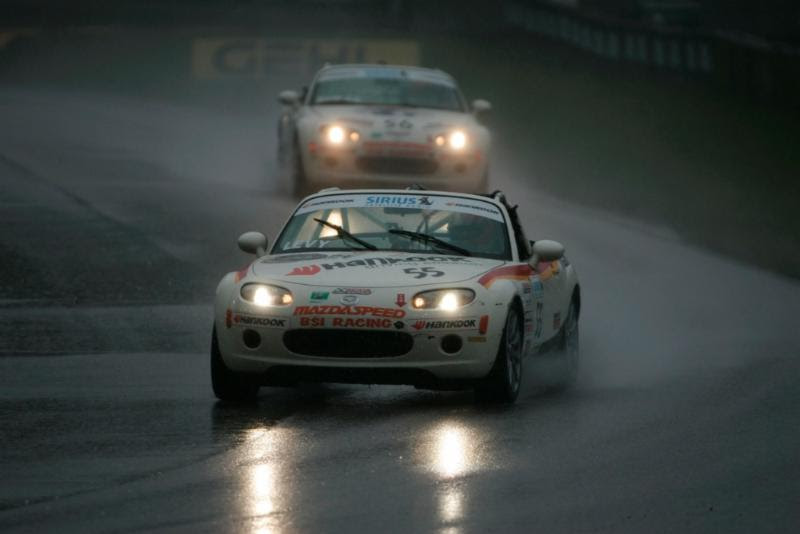 Bottom line is that Miatas are fabulous track cars, and it was really fun reeling in those Cobra Daytona Coupe clones and a couple whaletail Porsches when a light rain started to fall at Autobahn the other day. Only then it started to come down harder and the orange Daytona Coupe looped it right in front of me (aim for the rotating end and it hopefully won't be there anymore by the time you arrive) and then it REALLY started coming down and so I decided that discretion, etc., etc., pulled in and parked it.
The rain passed over during lunch and we were able to get some more good running in after lunch, and it brought back all over again why I love this stuff so much. I think the better and more experienced you get, the more you see each and every lap as just a collection of things you didn't do right or could have done better. It's frustrating, to be honest. But hopefully those little glitches and miscues become smaller in degree (if not in number) and there's a bit of satisfaction in that.
But laid over the whole thing is the sheer joy, rhythm and glorious sense of command that comes with conducting a car around a racetrack. I hope I never outgrow the rush. And the lingering glow that comes afterwards.
But enough sappy sentiment. It's time for an ugly (but very funny) track-day story. It begins with an experienced track-day driver we'll call "Skip" (because that's his name) who runs a very nice, deep metallic green Lotus Elise and serves as an instructor as a way to "give back" a little to the sport (not to mention getting a wee break on his entry fees in the process). So he had a student (I think in a Corvette or Camaro) at Autobahn and duly rode around with him and whispered in his ear (via in-helmet intercom) about where to brake and where to get on the gas and where to turn in and track out and which curbs you could nibble on to make your arc through the corners more agreeable. And the guy did a pretty good job. So, later on in the afternoon, Skip offered to take him out the Elise to show him some of the finer points (or, as we instructor types like to call it, "show off and scare the crap out of him").
We now fast-forward to me, standing by the fence with stopwatch in hand (the session is still running) when Skip and his passenger pull up next to me in the Elise, their helmets still on.
"Where is the hose?" Skip asks in an unmistakably agitated voice.
"The air hose?" I figure he has a tire going down.
"No, the HOSE...the HOSE!" His eyes look like the guy who's just discovered the body in one of those marvelous old Hammer Film vampire movies starring Peter Cushing, Christopher Lee and assorted young ladies with wicked eyes, red lips and enormous, heaving breasts.
"The water hose is over by the North tower," I tell him, thinking he maybe had an off somewhere and needs to spray some mud off his car.
Only the car looks quite clean....
Well, there really is no delicate way to put this, but it seems his student (who was a rather large, strapping individual), umm, "became unwell" whilst Skip was showing him the finer points of violent late braking followed by high-G-force sideways sliding first one way and then the other, and so he proceeded to barf rather profusely (we figured it at around three full meals) all over himself and the Elise's lovely fawn-tan interior.
But it was hard not to laugh watching Skip hosing out the inside of his Lotus like a weekend fisherman might hose out his skiff after a good haul of tuna. And then, of course, the hose had to be turned full blast on the unfortunate student. Head to Toe and East Coast to West Coast.
Of such things are entertaining and enlightening track-day stories made.
Only it takes a few weeks for the people involved....
Elkhart Lake This Weekend
I probably don't have to tell any of you with a pulse that The Hawk is swooping down on Elkhart Lake again this coming weekend, and there will be all sorts of racecars (over 500, I think) great on-track action (as always), plenty of hoopla, two magnificent concours in town (racecars 

Friday

 night, street machines & classics 

Saturday

night) and more fun, frolic and morning hangovers than you can shake a stick at. As there's no enduro anymore (sadly missed by serial co-drive ride-moochers like yrs. trly.) I may not get on track at all (although I'm bringing my suit & hard hat, just in case). But I'll be judging in the racecar concours 

Friday

 night and hawking the living crap out of my books. I'll be at the VINTAGE MOTORSPORTmagazine hospitality tent on the main drag in the paddock (just a few steps from the track's 4-MILE MERCHANT souvenir store) from

10am

 through lunchtime all three days and between afternoon race groups when I'm not busy someplace else interviewing people for my race report, schmoozing about stuff in general or trying to chat up future rides. In any case, be sure and stop by to rest your feet, shoot the breeze, buy a subscription (or a full set of my books...on special @ $150 including the Potside Companion, appropriate defacing & decals) and perhaps even snag a cold drink or a wee snack.
I'll also have signed copies of my friend Sylvia Wilkinson's long-awaited reprint of her EXCELLENT book on longtime companion John Morton's racing career (it's a great read, and the proceeds go to animal rescue)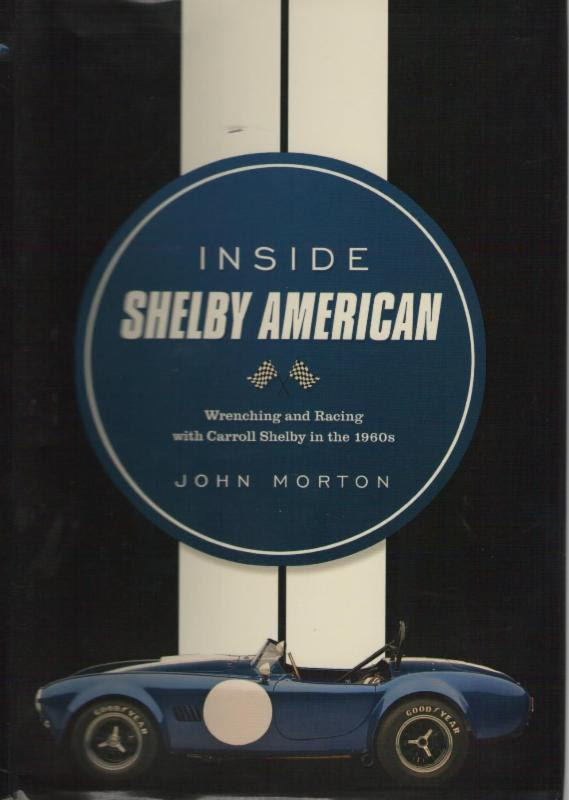 as well as signed copies of John's own, new and entertaining book about the early days at Shelby American.
And, just to cap everything off, it looks like I'll have some books on display (and available for purchase, of course) at the Fuelfed/Vintage Motorsport tent at 186 Lake Street (just a few stumbling steps from the concours and Siebkens famous bar) in town 

on Saturday

 evening.
See you there?
MOVIE (and now MOTORSPORTS, too!) QUIZ:
Okay, so some of you are as sick in the head about old movies as Carol and I. So here's a real simple one:

Who is Rusty Martin's boyfriend?
What kind of car did he drive?
Where?