Question Two
a) who are these guys? Fred MacMurray (right) and Eli Wallach playing "First Man" Thad McCloud and Central America dictator Raphael Valdez Jr. respectively.
b) what movie are they in? 1964's Kisses for My President, by Curtis Bernhardt
c) what kind of car are they in? A Costin-bodied Lister, although I couldn't say for definite whether it's Jaguar or Chevy powered - probably the former, I believe. And it's no good watching the movie to hear which one as they're invariably dubbed! You'll notice it's right-hand drive: that's because it has just been collected from import from the U.K. by Valdez and he's taking it for a hair-raising test drive, which involves racing a train and scaring the **** out of McCloud.
d) who is one of them supposed to be married to? Thad McCloud is, in the film, married to the first U.S. female president, Leslie McCloud played by Polly Bergen, which is the main premise of the film. Did you choose this subject because a year ago that almost came true? And how much would you rather Polly Bergen was the pres. now? Oh dear, getting into things that are none of my business! Well, maybe they are.
Only think off kilter is that although there is certainly a Costin-bodied Lister in the sports car shop Wallach and MacMurray visit (see below) my recollection (never a sure thing these days) is that the car they actually go for a ride in is white rather than bare metal and looks more like a Knobbly Lister (albeit with an odd, full-width "mouth" opening) than a Costin version. Haven't got the time to look through the whole damn film to see if I'm right, so we'll leave that to the ever-anal-and-inquisitive Mr. Allen.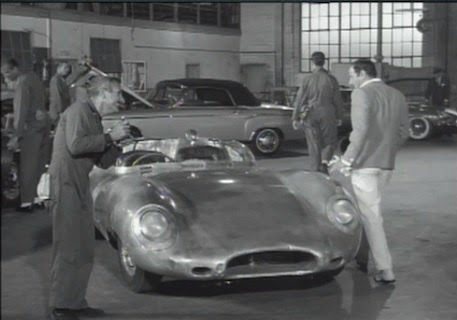 NEW TRIVIA!!!
OK: What? Where? When? (extra credit: who drove?).