Well, it's that time of year again, and those of us dependent on holiday retail sales to keep our creditors happy & heads above water--at least until racing season starts up again, anyway--are hoping that the booming economy the president keeps bragging about and that big federal tax cut that gave people (or at least SOME people) a bunch of extra discretionary income will result in booming sales through the end of the year.
Those big Black Friday/Cyber Monday discounts help, too, although it's been my observation that not many males of the species are interested in going toe-to-toe with the seething tide of women who seem to somewhat masochistically enjoy getting up at the crack of dawn (still groggy from turkey tryptophan and the after-effects of maybe a few too many glasses of chardonnay or pinot grigio) to go jostling about in a mad lemming-swarm of perfume and petticoats just to save a buck-fifty on a pair of wool socks. Or to get a freebie roll of scotch tape with forty bucks worth of gift wrap.
Hey, there's a football game on TV...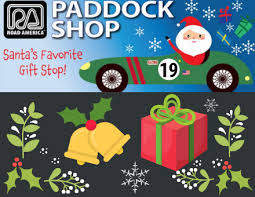 Yep, Carol & I will be there with all of our usual merchandise & crapola, Julie's got a freebie hat/tee shirt promotion going on if you buy enough stuff (I believe fifty bucks is the magic number) along with all sorts of motorhead-oriented books, art prints, lamps, clothing, furniture, RA clothing & accessories for kids & babies, geegaws, doodads etc. Funny stuff, too. Like the World's Largest Whoopee Cushion and the homey sign that hangs over our kitchen sink and says:
"I'm so miserable without you
it's like having you here"
So drop by. Bring your main squeeze. Bring the whole damn family. There may even be some live Christmas music. Then again, there may not. You'll never know unless you show up. And imagine the light that will flicker up in your favorite race fan's eyes when they open up that package and find something they really want and care about.
Isn't that better than a damn tie?
If you've never been to Road America or its most excellent gift shop:
A) Why are you reading this?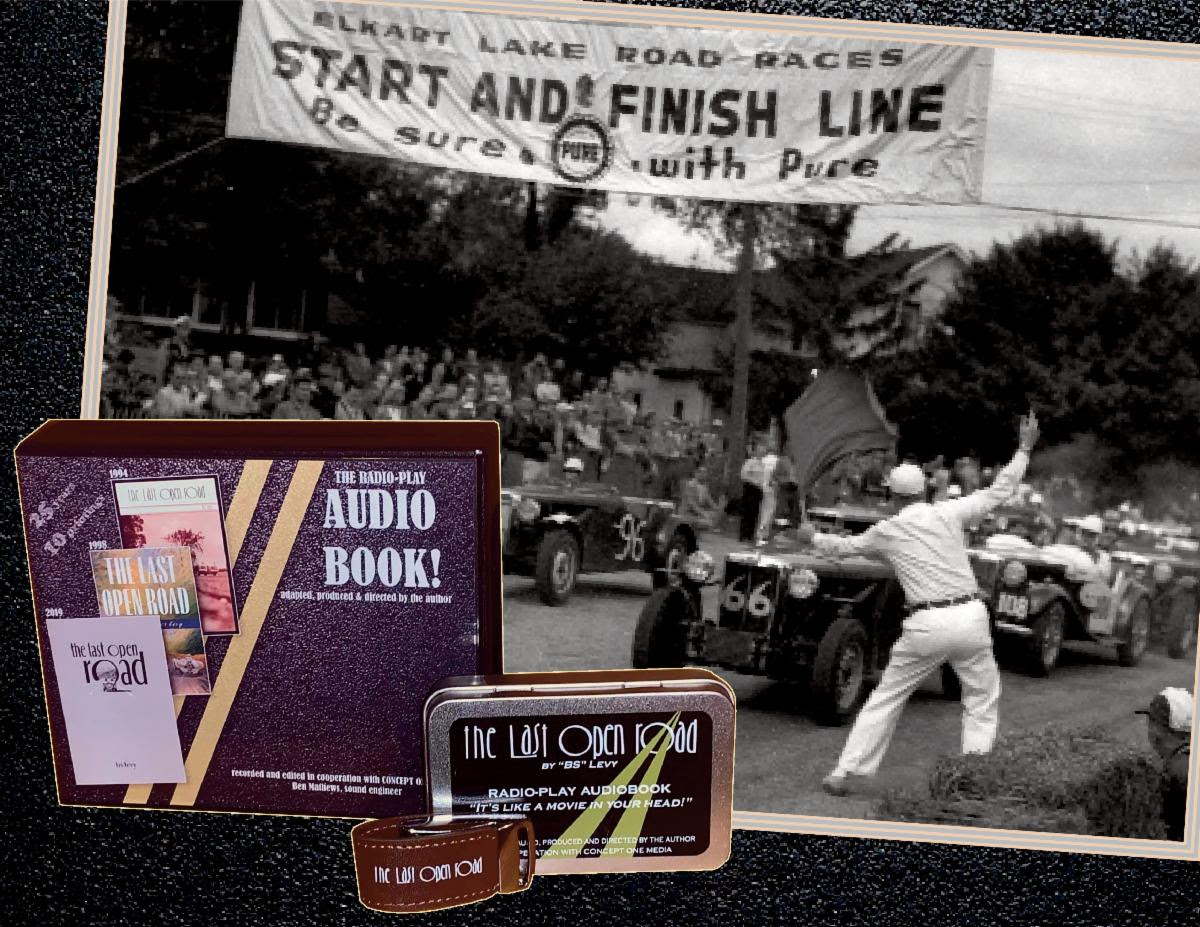 We'll have lots of the above on hand, too!
OTHER CRAPOLA OF INTEREST:
Celebrated a birthday last week--none of your business which one--and my great friend Jack Webster (who believed in me and my books before anyone else and whom I used to sign with at racetracks all over the blessed country) sent me a Far Side cartoon which he claims is of me (lower left) covering one of my early races for the magazine: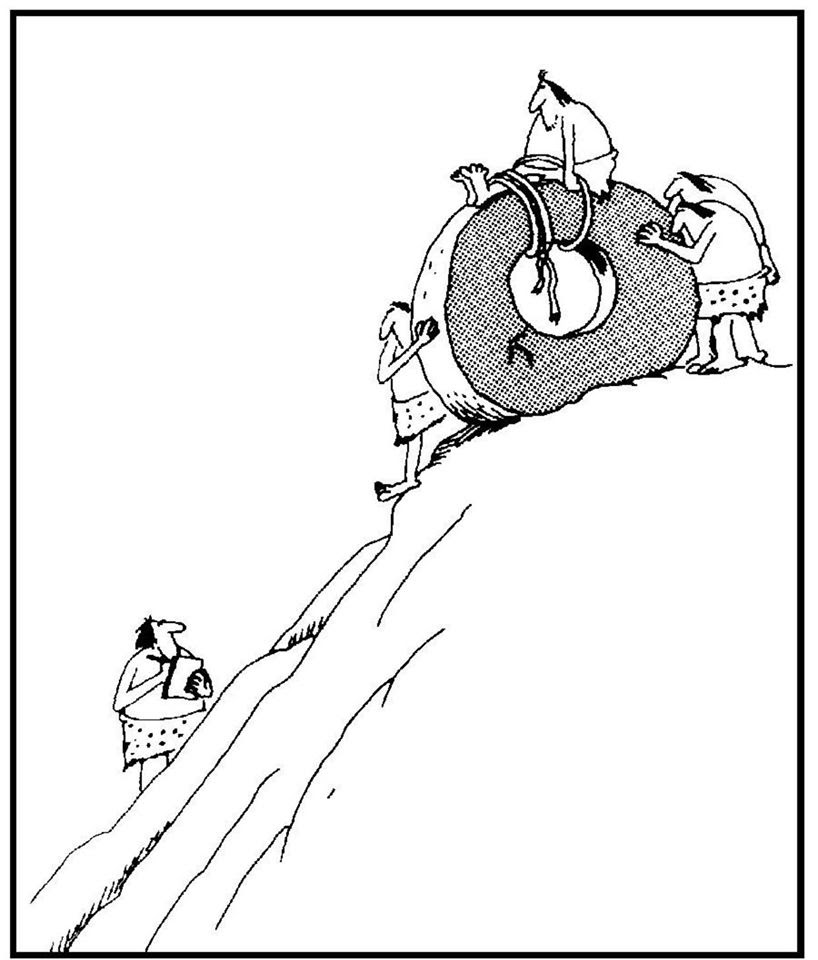 Very funny. Hah. By the way, Jack is one hell of a brilliant race photographer and you should check out his excellent & absorbing coffee-table photo book, "RACING PILOTS" at 
https://www.racingpilot.com/
Check it out. It's superb.
On an entirely separate subject, I was absolutely gassed earlier this morning (wife Carol says I'm gassed EVERY morning, but that's another story) to see a big and extremely flattering review of the new audiobook prominently featured in the always informative & entertaining RACER e-blast bulletin. It's REALLY good!
Lastly, we have a trivia answer and a new & more worthy question: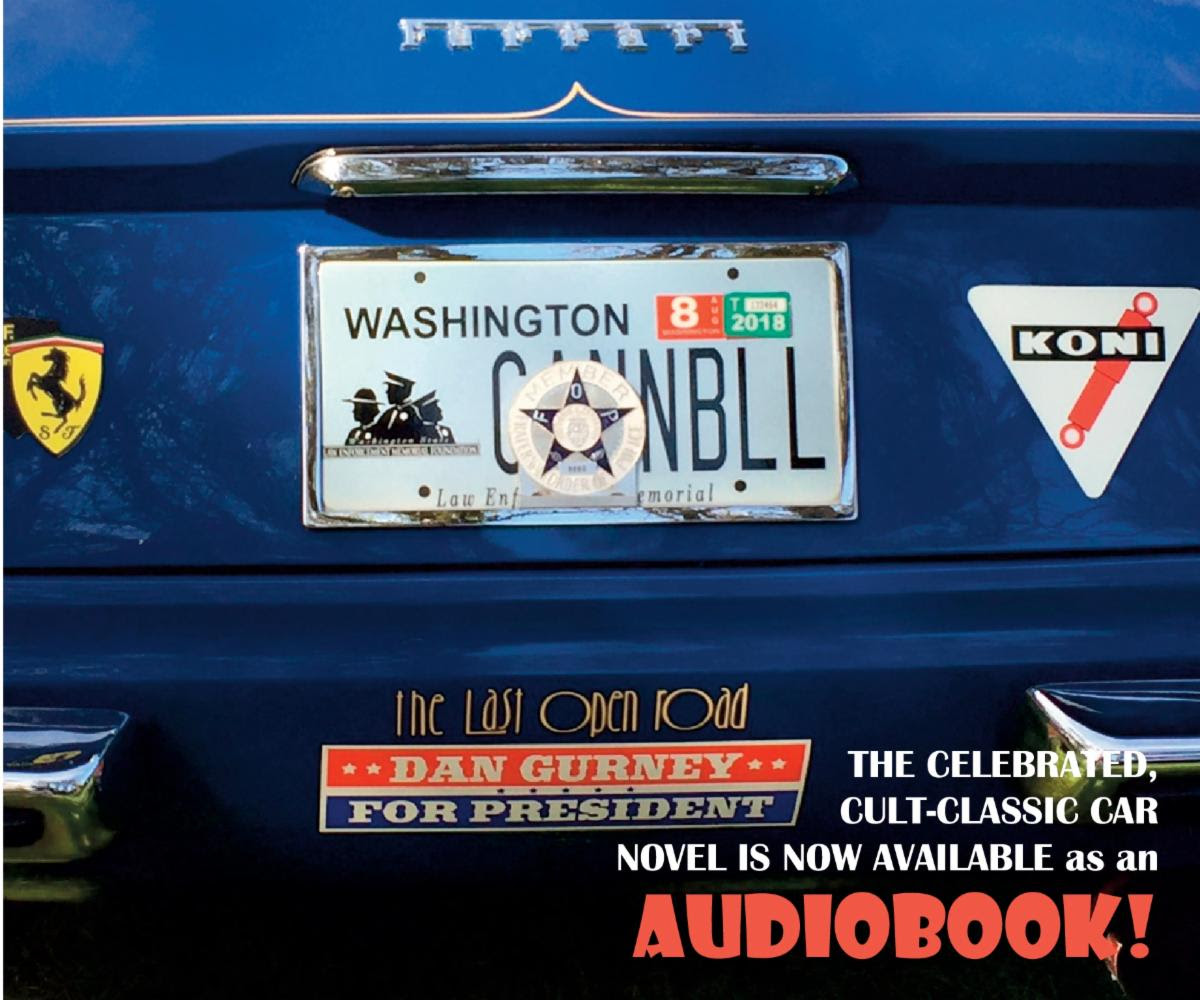 Yep, it's a Ferrari Daytona, all right. But a very SPECIAL Ferrari Daytona. The "DAN GURNEY FOR PRESIDENT" bumper sticker below our aspiring-to-be-ubiquitous "The Last Open Road" decal should be a tipoff. Yep, it's the same, exact, Kirk F. White-owned Ferrari Daytona coupe that famous All-American racer & team-owner Dan Gurney and gonzo motoring journalist Brock "The Assassin" Yates (who also conceived of and promoted the event) used to win the very first, highly illicit Cannonball Baker Memorial Sea-to-Shining-Sea Trophy Dash. You can call it a rallye if you want to, but believe me, this was a blessed race!
The Ferrari covered the distance from the Red Ball Garage in Manhattan (easily within smelling distance of the East River and, by extension, The Atlantic Ocean) to the Portofino Inn on the Pacific in a stunning 35 hours and 54 minutes. Gas, cop and pee stops included.
Now since that particular event took place in 1971 and The Last Open Road didn't break cover until 1994, it's obvious that the decal was not exactly Original Equipment. But a subsequent owner and much-appreciated fan of my books, Bruce McCaw--like many of you much-appreciated car-owners out there--decided that his historic/new-to-him Ferrari really need one of our decals. Go figure. Also (drum roll, please) I believe I shot this picture on the show field at Pebble Beach. Really.
And now, NEW trivia: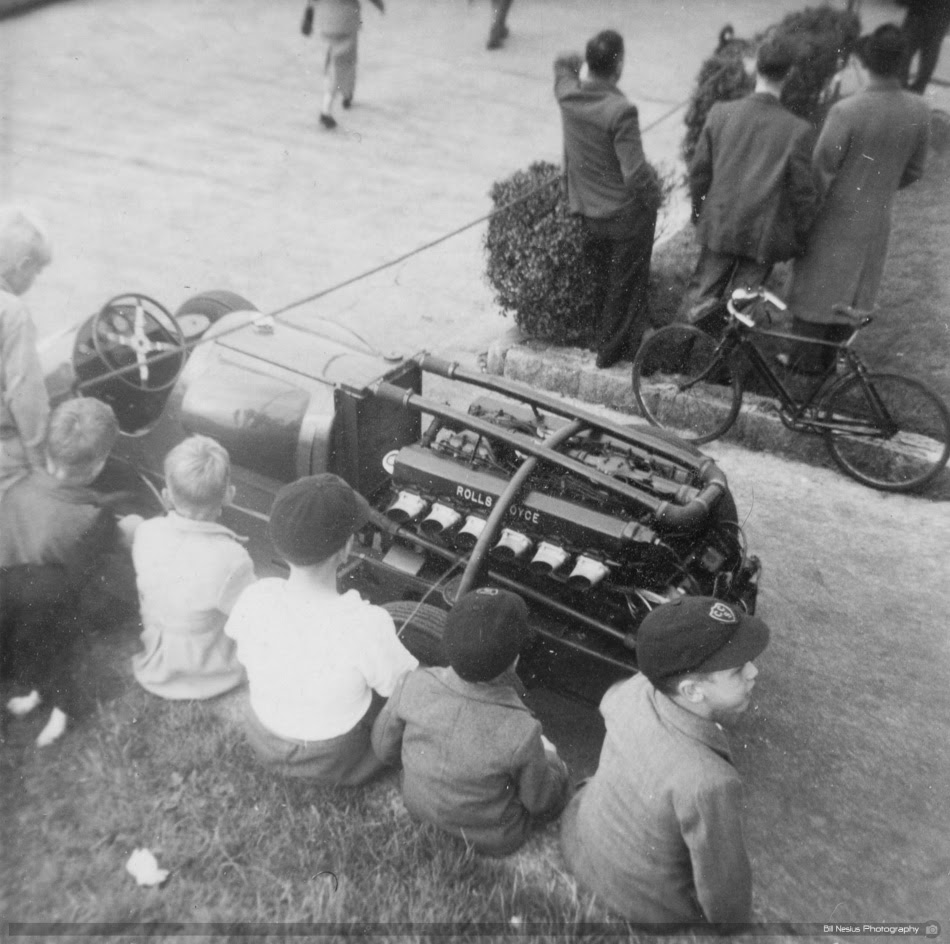 Bob Allen, we await your answer!
Last of all, if you can't make it to The Paddock Shop on the 14th, be sure to visit Finzio's Store on the website at 
WWW.LASTOPENROAD.COM
 and buy lotsa stuff for your friends, family, crew members, engine builders, star drivers, horrified neighbors 
("Is he running that damn thing AGAIN in the middle of the night?")
 etc. We promise to put the money to good use!
All the best for the Holidays & Beyond.
Speaking of which, we had a Holiday Recipe trade-around in our bike class at the health club, and these were my submissions. They're pretty good, too: