As to the photo shown below, it is race-winner Bernd Rosemeyer tying the shoelace on his singularly heavy right foot while resting same on the LF tire of his Hitler-backed (or at the very least supported and financially encouraged) Auto Union grand prix car at the 1937 Vanderbilt Cup race on Long Island.
The Auto Union was designed by Ferdinand Porsche, and was an awesome and thoroughly radical design (rear engine, fully independent suspension and a supercharged, 6-liter V16 motor producing in excess of 500hp...on those tall, skinny tires!). Rosemeyer's father ran a car garage and Bernd went almost directly from racing motorcycles to the Auto Union grand prix team. This could have been a plus, as that meant he had no experience with "conventional" front-engined racecars to influence his feel for and relationship with the machine.
Several people mis-identified the guy with his foot on the tire as Dick Seaman (we had some interesting spelling variations there), the talented English racer who signed to drive for the equally Third Reich-backed Mercedes team during the ominous, politically charged years leading up to World War II. Fabulous story, but no time for it here. Read a book on it, OK?
Bernd Rosemeyer seemed to feel more at home in the Auto Union than his teammates, and the battles between Mercedes and Auto Union were epic. With very few exceptions, they totally eclipsed all the other grand prix cars and teams. It served as a chilling foreshadowing of the German technical excellence and organizational prowess that powered their emerging war effort.
Rosemeyer lost his life in a try for more glory via a world land speed record attempt in the Auto Union streamliner: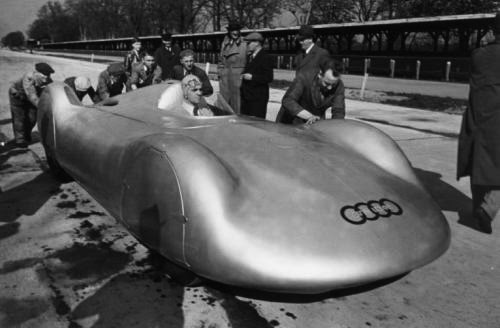 It was an epic day. Mercedes and Auto Union both brought record cars, and it was a one-at-a-time, duel-to-the-death showdown. Look it up.
HISTORIC STUFF:
I'm happy to say that damn near EVERYONE got Gregori Rasputin, the "mad monk" who exerted such perverse power and influence over the Romanov ruling family in Russia during the lead-up to World War One. A creepy and hypnotic faith healer/guru and reportedly quite the stud in the sack. Hard guy to knock off, too. If you haven't seen the movie "Rasputin and the Empress" with Lionel Barrymore as Rasputin (and opposite his siblings Ethel and John) it's pretty damn lurid. Pre-code, of course...
One respondent opined that Rasputin has been reincarnated as Vladimir Putin. Another that it may be Bernie Ecclestone. Check your mirror...it could be YOU!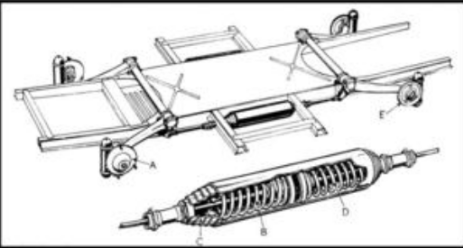 The above, dear readers, is the cheap and ingenious chassis frame/suspension layout of the near-ubiquitous and terminally French Citroen 2CV (which translates as "Two Horsepower" in English, but I believe they're more likely Shetland ponies). Few of you recognized it (or give a flying fig for French cars in general) save a few poor mechanic souls who worked at repair shops so poor and desperate that they'd work on anything. But some of my friends--people who own and race all sorts of exotic machinery--have bought them and fallen strangely but deeply in love with them. Go figure.
Others were not similarly enamored. Or, as 
one respondent explained: "I lost a race with a 2CV to the top of a hill once, but I had a handicap. I was on foot."
Truth is, I think several of the French cars I've driven boast the most superb, supple and compliant over-the-road suspensions on earth. Sure, they lean in corners like they're about to tip over, but it's a soft, modulated sort of lean. And I'm absolutely in love with the Alpine A110 (the only car besides the Porsche 911, I think, to win both the World Rallye Championship AND its class at Le Mans). That's me below, flailing around Blackhawk Farms Raceway with a huge grin on my face in my friend Yves Boode's Alpine A110: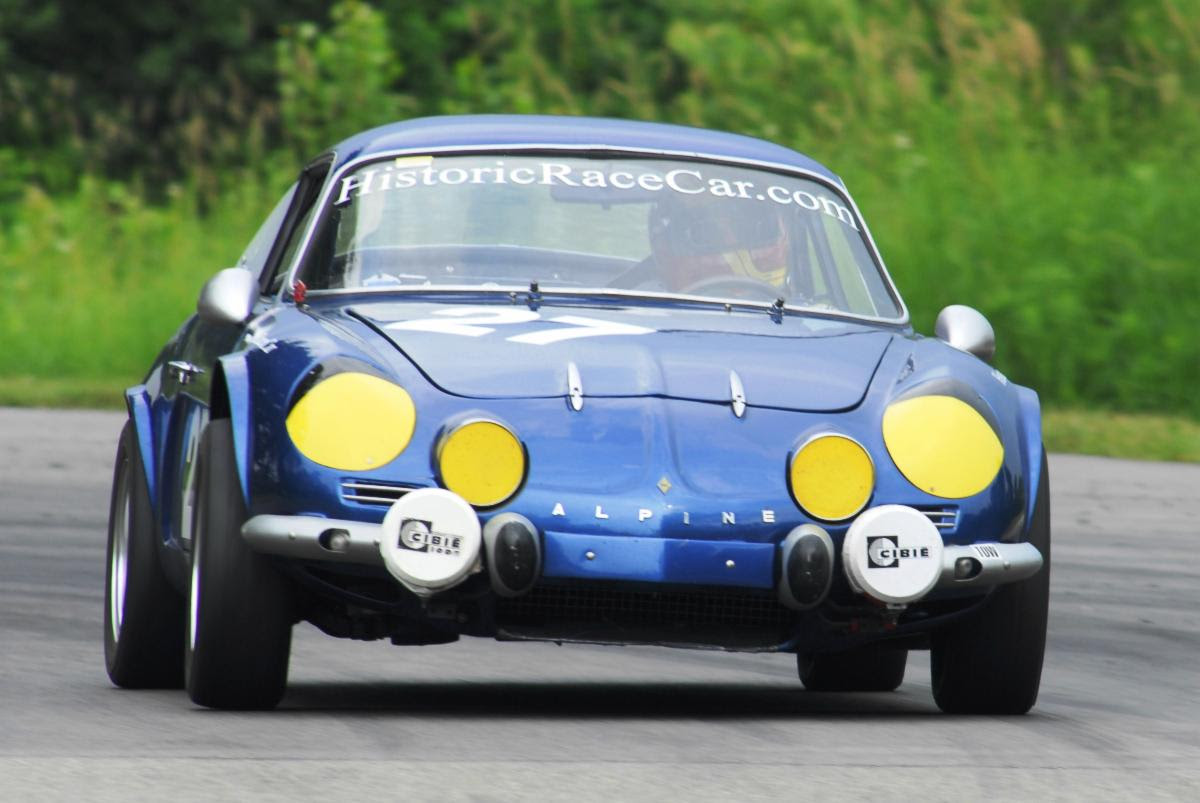 And here's Yves doing something else you may have to do on occasion with French cars: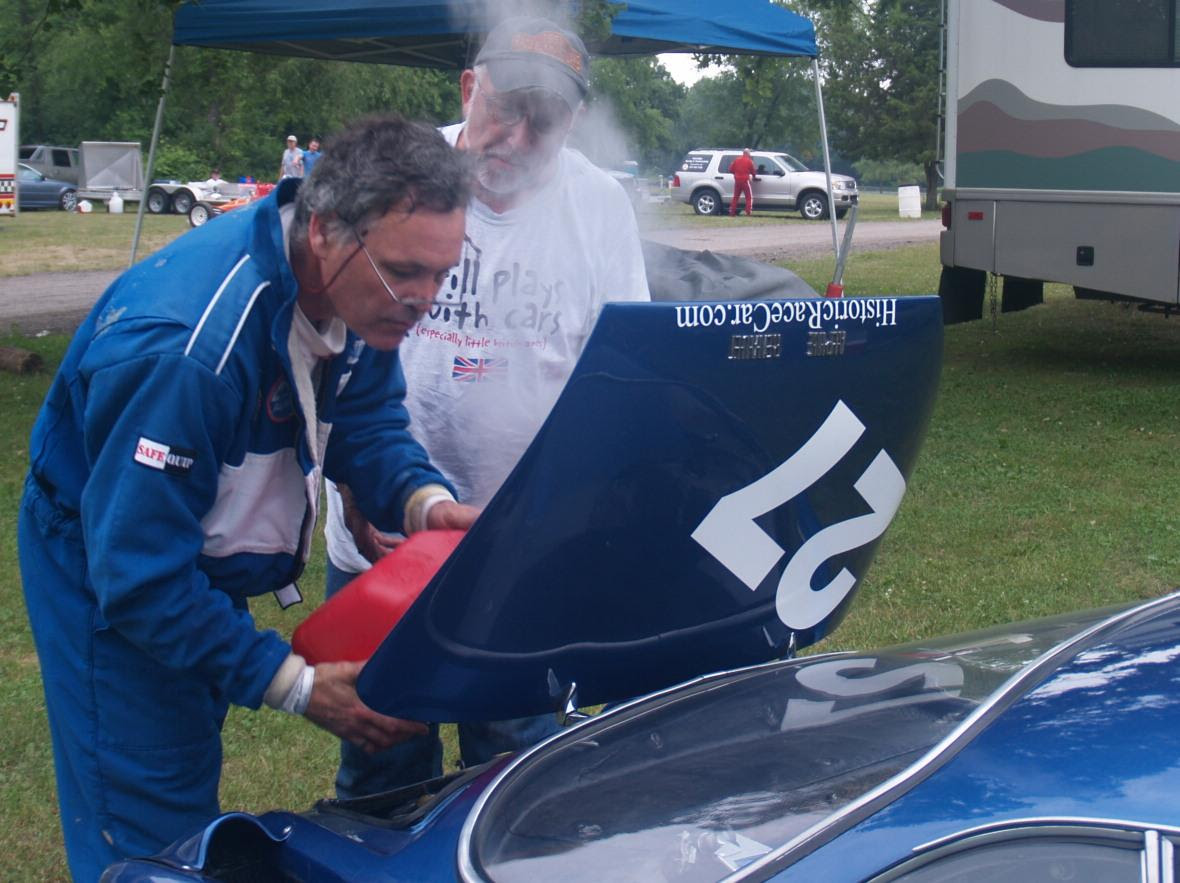 If I ever get that movie or television series deal, I'll own one for sure. And I promise, I'll drive the living crap out of it...as I should! And I'll keep it happy by pouring a little cognac in the crankcase (like Peter Ustinov in his semi-immortal "Grand Prix du Roc") and speaking to it soothingly in French. Which I'm afraid I'll have to learn...
Essay Question from last time: Why is iracing like a two-dimensional cardboard cutout of a really gorgeous, witty, sexy, well-read, intelligent and gregarious girlfriend?
A: Everybody that bothered to answer agrees with me: without the risk, fear and mechanical challenges, it's just not the same thing. At all. Not even close.
Fendered Forensics (or, can you tell from these wee slivers what sort of whole car we're looking at)?
a)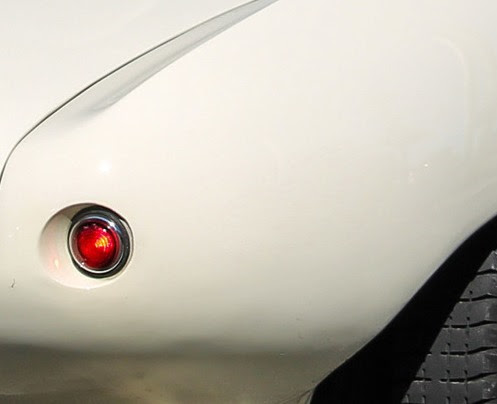 b)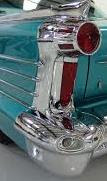 c)
HISTORIC FACES: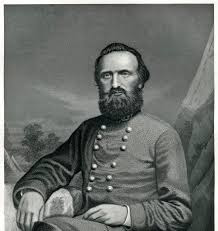 Who dis?
INSIDER RACER SHIT (a whole alphabet's-worth):
THESE ARE THE CORNERS, NAME THE TRACK:
c) "The Kink" (bonus points if, like me, you've wrecked there. Points deducted (double) if you did it in somebody else's car...)
q) "Maggots" (not the bug larva, BTW)
I await your replies. And buy some stuff from the website, willya? Or be a sponsor for the new book. That'd be even better!!!