NO CORNER WORKER IS SAFE!
My report on the VSCDA's fine Fathers' Day event at Blackhawk is coming up in the magazine (they've been running a little behind, too) so I won't dwell on it, but it was both a swell time and kind of a Time Warp Experience all rolled into one. Below is me in the scary-fast/scary-good/200+plenty mph Can-Am Shadow I'd driven at Road Atlanta several weeks before: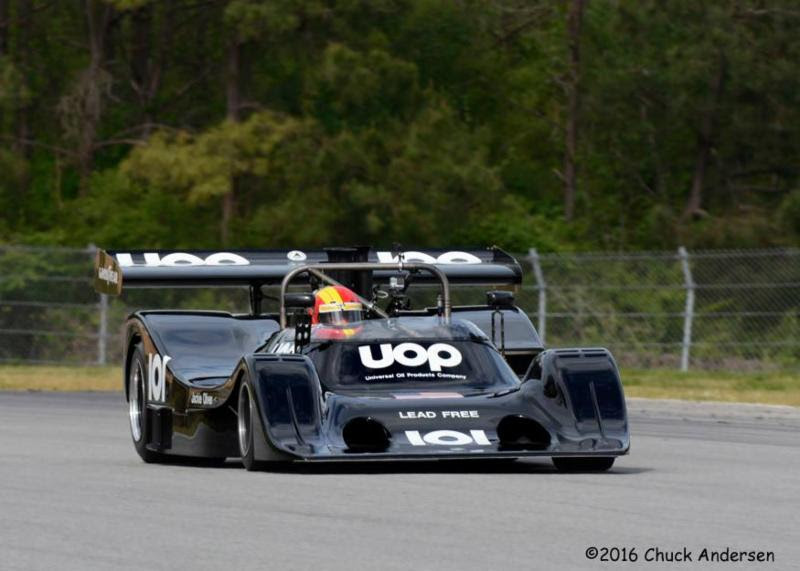 And below is my [brief] Blackhawk ride in friend/serial ride-mooch enabler Lou Natenshon's creaky old MG TF mit Ford V860 Flathead power: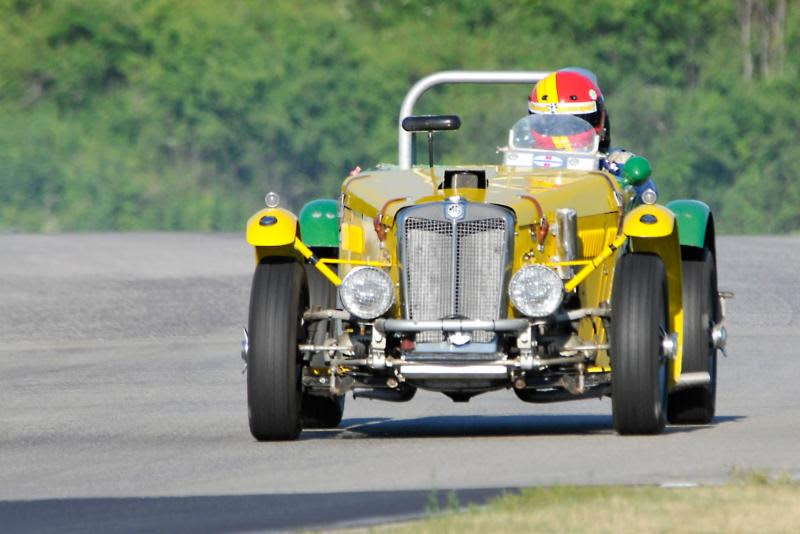 It was actually a fun thing to drive--and QUITE a contrast to the Shadow!--but the old MG "still needed a bit of sorting" (translation: it was overheating like a--insert off-color, "locker-room talk" noun of your choice--and pumping out impressive plumes of both steam and oil smoke) so I didn't get many laps in. Ditto when I drove it again briefly at The WIC (nee HAWK) at Road America several weeks later. But I have great faith in Lou (and even more in friend/ace prep artist Mike Alexander) and am sure they'll have it ticking away like a fine switch watch if we all just live long enough to see it happen.
Instructed at the Alfa Romeo Owners' Club track day at Blackhawk and the MAMA (Midwest Automotive Media Assn.) driving school for journos and media types at Gingerman a few weeks later, and that was a lot of fun.
FCA (Fiat-Chrysler Automobiles, and FYI the 7th largest automobile manufacturer on earth) was kind/stupid enough to put up the cars for the MAMA track day (see pic below...thankyouthankyouthankyou)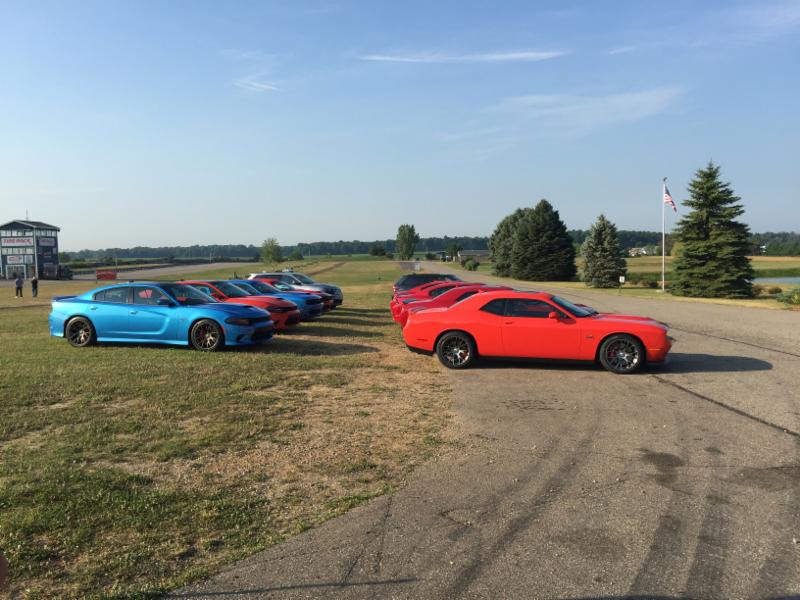 It was amazing how their monster Hellcats, SRT Chargers, Jeep Grand Cherokees, etc. kept taking punishment all day long without skipping a beat.
Had two really interesting students: a pleasant young lady from Cars.Com who had never done anything like this before and was initially a bit spooked, tentative & uncertain and a guy who thought he already knew what it was all about. So the girl listened & applied herself and got better and better and better (like until she was reeling in Hellcats and Chargers in a damn Jeep Grand Cherokee!!!!) and the guy--who had plenty of confidence, car feel and aggression but wasn't very clinical in his approach and didn't seem to like coaching or suggestions much--plateaued early and, IMHO, didn't improve a lot from then on. There's a lesson in there somewhere...
Didn't get to drive at Monterey or Lime Rock (must be losing my touch!) but got in some quality seat time during a test day at Watkins Glen (all in the line of journalistic duty, I assure you) on our road trip out to Lime Rock. Thanks to longtime friend, ace racer and under-appreciated Catskills-dialect comedic talent Steve Cohen, I found myself at the helm of the same Olds Aurora that won the GTS class and finished 7th overall at the Rolex 24 Hours at Daytona in 1996.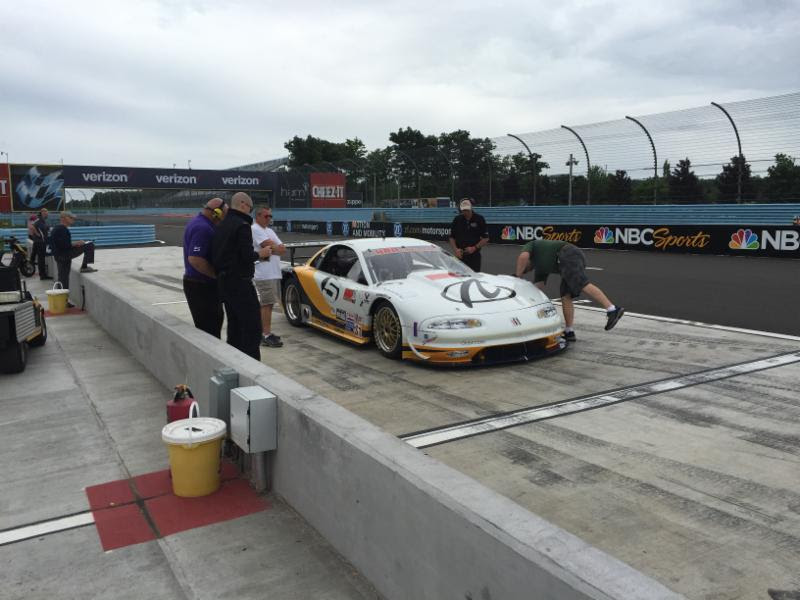 Now this is one hell of a fine racecar. And Oldsmobile was one hell of a fine company back then, too (not to mention a genuine power on the racing scene). I'll be looking at those sad aspects as well as the fun of the driving experience in the feature I'm writing for the magazine. Suffice to say Steve's Aurora is a beautifully sorted, 200+mph racing machine and, very simply, one of the nicest, best prepared and easiest to drive racecars I've ever experienced. Not to mention one of the fastest. The team was doing some tire testing for Goodyear (they're thinking about making tires for this market) and in just 8 laps I was down to a truly effortless 
2:01
 with plenty still left, and Steve went far quicker than that the following day. Wotta car! I'll tell you more about it in the magazine, but both the car and the new pavement at Watkins Glen were amazing! Heck, I'd like to jump back in for a few more laps right 
NOW! 
It was that good...
Carol & I had a fun dinner with Steve and the crew at the fabled Seneca Lodge that evening, old Catskills schtick ruled and a good time was had by all.
We drove to Lime Rock the next day and found some REALLY great sports car roads along the way (not quite so much fun in an overloaded Ford Freestar Minivan) but also got stuck behind not one but TWO slow-moving, double-wide prefab homes for a long, loooong stretch of twisty-windey 2-lane with double yellow lines down the middle. Aarrrggghhh! Lime Rock was wonderful as always (if you've never been, put the Labor Day weekend Historic Festival on your bucket list right now!) and Carol & I really enjoyed staying in the homey basement space of the cozy little cottage the magazine rents near the track (see pic below). Also enjoyed a couple meals with friend, accomplished pro racer & weekend grand marshal John Morton (tin-tops were the feature) and his novel-writing main squeeze/life partner/concubine/longtime companion Sylvia Wilkinson. Great people, even if she does rescue, raise & release orphaned baby opossums (I kid you not). Also good to see that Sam Posey's difficult battle with Parkinson's has taken none of the wry edge off of his comedic sense, and he was both funny and entertaining (as were John Morton and his famous BRE team-owner, Pete Brock) at the fine track dinner 
Saturday
 evening.
The racing was damn good, too.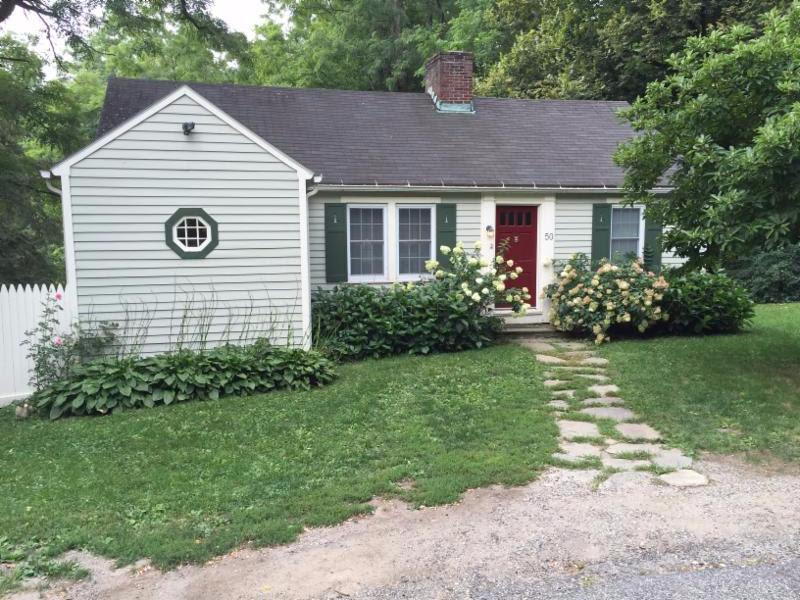 Carol and I took a wonderful 20-mile bike ride on the scenic Harlem River Trail not far from the racetrack after the concours on Sunday, and on the "dead" Tuesday after the event visited the Norman Rockwell museum in nearby Stockbridge. Really worth a visit, as that man could capture whole slice-of-life/slice-of-Americana stories in a single canvas, My favorite ("The Shiner") is below:
Next day it was back to Watkins Glen for the SVRA's highly anticipated Vintage Grand Prix. The Glen is a very special place with a very special history (you can read all about it in The Last Open Road, by the way), and it was great to have the date back in its usual September spot after re-paving turned the racetrack's schedule upside-down last year. And surely the very best part--for me, anyway--was an out-of-the-blue enduro drive offer from new friend/fellow old-timer/ultra nice guy Marc Cendron. That's us below. He's the one with actual hair on top, I'm the one with the snazzy Elkhart Lake 1952 hat (we have them for sale on the website!) covering his bald spot. 
Anyhow, Marc is the current owner/thrasher/caretaker of the Tojeiro/Climax that was found by, restored for and belonged to my late, great Kansas City racing friend John Muller. John started vintage racing in a bright blue, incredibly low ground clearance Porsche Speedster that wasn't the friendliest thing to drive, and in those early days it occasionally found its way off the black part and into the trackside scenery (hey, it's part of the learning process, right?). But John persevered & got better with more seat time and a bit of mentoring (I was responsible for some of it, but he came right anyway) and by then he'd fallen in love with the Coventry Climax-powered mid-fifties English sports racers running around in the SVRA's Group 4. Ultimately he found & restored (or, to be more accurate, had Brian Haupt restore) this absolutely wonderful Tojeiro, and I was fortunate to co-drive it with him a couple times. Including once at Road America and once at Watkins Glen. In the rain. See pic below (note: I had just gotten a new helmet and friend/helmet painter extraordinaire Al Ribskis hadn't had a chance to paint my well-known bright red/asymmetrical yellow stripe color scheme on it yet).
As you can see, the car is absolutely gorgeous. And unusual. For those who may not know the history, John Tojeiro was a successful but very small-volume British constructor/special builder back in the fifties, and he's probably best remembered for the Bristol-engined special (LOY 500...see pic below) he built for Cliff Davis that dominated British club racing in the early 1950s and became essentially the prototype for the AC Ace, AC Bristol and, ultimately, Shelby's iconic 289 Cobras.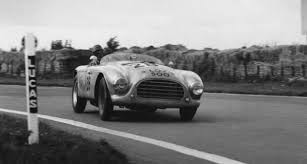 Tojeiro also built a few Jaguar- and Coventry Climax-powered racers, and John's car was one of the latter (think there were but four made). They were beautiful and beautifully built, but never enjoyed great success because they were a tad heavier than the best of the similarly-powered Lotus, Cooper and Lola opposition and never enjoyed, IMHO, the same level of driving talent behind he wheel.
But just LOOK at the damn thing. It's gorgeous! And no question John Muller's artistic sense took over and made the finished restoration far handsomer than it ever was back in the day. Good friend John is gone now (seems hardly fair, as he was always lean, fit-looking and disgustingly handsome, and had the sunniest of dispositions) but the car has found a good home with Marc, who surely appreciates it.
In any case, Marc very kindly asked if I wanted to co-drive the Vintage Enduro with him and, needless to say, he didn't have to ask twice. And, just to complete the deja-vu-all-over-again feeling, it was raining--albeit gently--as wife Carol and I drove up Highway 414 towards the track. "Be careful" she cautioned for maybe the tenth or twentieth time.
"Hey, I've driven here in the rain before. In this very car, in fact."
"That was twenty years ago."
To be honest, there is no proper, snappy comeback to that one...
The sky was brightening and the rain had stopped by the time we were marshaled to the grid, but the track was still quite damp, and I was just as happy that Marc had assigned himself first stint. After all, if dents, shame, paint and blame are to be traded, it's more likely to happen early on when the pack is all bunched up and the old adrenal glands are pumping to the max. Plus the weekend had already seen (again, IMHO) entirely too many yellow flags, double-yellows with pace cars and black-flag-alls. In fact, SVRA Major Domo Tony Parella had preached at length at the drivers' meeting about 
PUH-LEEZE 
not spinning out or crashing or causing incidents that might prompt yellow, black or red flags and rob the rank-and-file, entry-fee-paying participants of precious green-flag track time on what was most assuredly a jam-packed weekend schedule. Although the sanctioning body did manage to find time for an hour and 30 minute lunch break 
on Saturday
 so sponsor Jaguar could present "Jaguar Consumer Pro Laps," where prospective-customer types could be chauffeured round the circuit in the latest sporty Jaguars with pro hotshoes like Roberto Guerrero and Davy Jones at the wheel. Don't get me wrong, I think it's grand that a company such as Jaguar has chosen to become involved in vintage racing here in the states. I believe that their products and heritage are a perfect fit for our sport, and I furthermore believe that they are indeed making contact with  genuine prospective customers. So good on them. And I think their enthusiastically received race-driver autocross ("Try your hand in one of the new F-Types, mate? Set fastest time and you win a free entry to an SVRA event!") was a superb idea.
But all that said, the rank-and-file racers, who are the true backbone of the sport, come to these events for the cars, the camaraderie and competitive track time more than celebrity rock bands or to rub shoulders with racing royalty, and those things should never be subordinated to sideshows or commercial concerns.
Mind you, I think Tony Parella's stewardship of the SVRA has brought a lot of good things. He created events at two storied venues, the Indianapolis Motor Speedway and C.O.T.A. (although I don't believe either track is as interesting, entertaining or challenging to drive as some of our established "natural" circuits like Watkins Glen, Road America, Lime Rock, Road Atlanta, V.I.R., Sears Point, Laguna Seca, Mosport, Mount Tremblant...I could go on) and the SVRA's "Rain Insurance" concept is both overdue and brilliant.
But some of the other stuff, well...
You can take my soapbox new, sonnyboy.
So comes the start of the enduro under leaden skies and they all get away reasonably cleanly, but it isn't four laps later that yellows are out at Turn One. Seems the only Corvette in the field (and what the hell is a '72 C-3 Corvette doing in the "Vintage" enduro anyway?), which was running 3rd or 4th overall, has looped it and come to rest more-or-less perpendicular to the flow of traffic but thankfully off to drivers' right in the pit-lane exit. Oh, wait...isn't that SVRA Grand Poobah Tony Parella himself driving the 05 Corvette that's sitting semi-backwards in pit lane? And isn't that him selecting a gear and reversing back onto the racing surface before the rest of the field has gone by? And isn't that some poor fish in a small sedan taking evasive action to avoid the reversing Corvette and crashing into a guardrail?
 There is no sharper arrow than irony...
 To be fair, I did not personally witness the incident described above (I was in pit lane, and all I could see was the stationary yellow for the spinning Corvette followed by the wildly waving yellow after the small sedan had crashed), but I did  talk to several eyewitnesses--both on and off the track--and if I have gotten anything wrong, please make me aware of it and I will set the record straight publically and immediately.
BTW, I also heard from a fly on the wall that Tony, to his great credit (although after a bit of lobbying), admitted that he was at fault and agreed to pay for the necessary repairs to the bent-up sedan. My hat's off to him for that.
As soon as I saw the full-course yellow hung out and the pace car mustered, I donned my helmet and got ready for a strategically brilliant mandatory pit stop. And then watched Marc sail past with a finger-wave indication that he would pit next time around. I'm glad he couldn't hear what I was muttering into my helmet lining right then!
So we made our stop (see pic below) and I took off...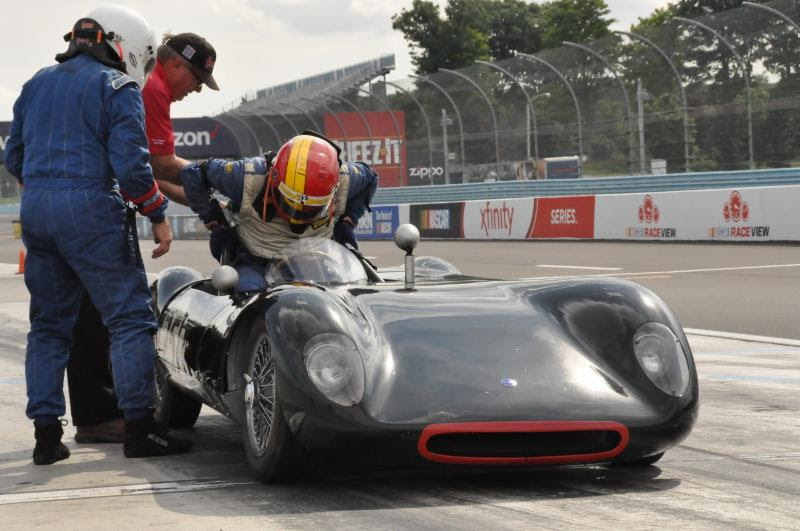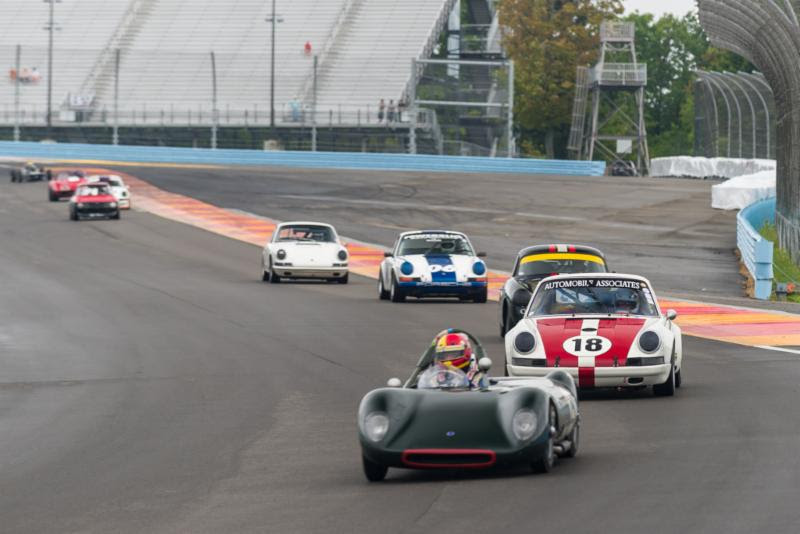 So I stormed out of the pits and made less than a lap before I caught up to the freaking pace car and slowed to a puttering pace. By this time there was a Formula Ford off into the scenery heading down into the boot (I've never liked mixing open-wheelers with fendered tin-tops and sports cars in an enduro, even though it usually comes out OK) and it looked to be a lengthy cleanup. BTW, a lot of tracks--The Glen included--could take a lesson from Road America regarding quick Emergency Team response, incredibly fast incident cleanup, the use of
LOCAL YELLOWS
 instead of full-course-yellows-with-pace-cars or black-flag-alls and hot pulls of stranded  vehicles in all but the most extreme situations. I did the well-subscribed VSCDA event at Road America the week after Watkins Glen and then an extended ChumpCar 2-day enduro (7 hours 
on Sat
./7 hours on Sun) at the same track, and I saw NO black-flag-alls and but a single double-yellow-with-pace-car incident (in last Sunday's ChumpCar race) when somebody blew something at the bottom of the Carousel and initiated a massive cleanup (which, BTW, took only three or four laps to put right).
Take that soapbox again, willya?
In any case, I figured I'd be spending most of my seat time in the Tojeiro dawdling around behind the pace car. But then the most amazing thing happened. I was second car in line and right behind me was the presumptive leader (the redoubtable Jim Hamblin in the white-with-red #18 Porsche 911 shown in the photo above) and what do you know? After a lap or two the pace car waved me by and, for a few laps at least, I was all by my lonesome under a memory-misted sky, driving a car I dearly love on a track every racer--me, included--ranks as one of their all-time-favorites. It was Time Machine magic, really, and you can read all about it in my "PURE BS" column in the next ish of 
VINTAGE MOTORSPORT
 magazine (click to subscribe).
So that was The Glen and then came VSCDA Road America (where a hoped-for  enduro drive broke before I ever got in it) and then, last weekend, the goofy but wonderful ChumpCar "Dual 7 Hour" thing at the same track. Drove again with the Alfa-infected F.A.R.T. team headed up by Iowa friend John Rockensies and his sidekick/squire/crew chief/chef d'cuisine  Art (whose "mild" chili is, I believe, seasoned with Drain-O). Co-drivers this time around were experienced vintage hands Eric Wood (he drives the snot out of an ex-Jack Beck  "squaretail" Alfa Spider) and accomplished MGB/prewar MG "PA" hustler Scott Fohrman in his a) first-ever race in Chump car, b) first-ever drive in an Alfa, and c) first-ever real enduro.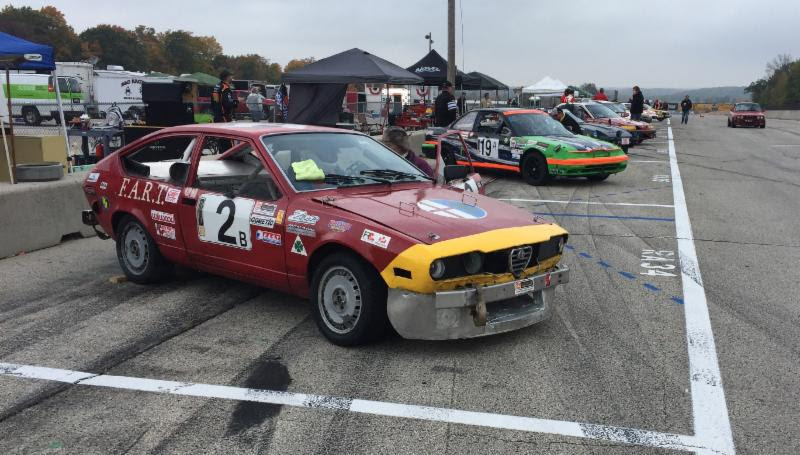 The race started over 70 cars (in ChumpCar, you can 
ALWAYS 
find folks to race with!) and, although a bit down on power, our Alfa came up all aces when it came to brakes, handling, pedigree and panache. Ran pretty damn good, too (translation: we didn't have to change the transaxle 
Saturday
 evening), although a few niggling problems held down our final finishing position. A ten-cent ignition wire just plain broke and cost us a half-hour delay getting it towed in and fixed 
on Saturday
 and then, 
on Sunday
, I totally surprised the crew by diving for the pits as soon as the full-course-yellow came out only to find them lounging in lawn chairs and deep into a discussion of the finer points--if indeed there are any--of this year's presidential campaign. But they mustered up, re-fueled, got me back out and, once the green waved, into a hellacious dice with several other cars that was easily the most genuine racing fun & excitement I've enjoyed all year. Me and some guy (or it coulda been a girl...in ChumpCar, who knows?) in a small, white coupe that looked like a half-melted bar of soap (that covers most of the small coupes out there these days) had a tremendous battle that saw us going through many corners side-by-side (the fact that we never actually touched was more down to dumb luck and courtesy rather than skill or judgment) only it was over way too quickly after I got a "meatball" flag (a black flag with a big orange ball in the middle that means "something is wrong with your car") and I was forced to pit yet again. Seems the exhaust pipe was coming loose and dragging on the ground. Hmmm.
So that was pretty much the end of my run. John and Art got it fixed and Eric went out and I went over to the Paddock Shop to sign a few books. The good news, at least up until then, was that I'd been quickest driver in the car (although only by a tiny bit) and also reasonably consistent. So at least I had bragging rights. Only then the whole damn wired-on/plumber-strapped/jerry-rigged exhaust fell off entirely (giving Eric quite a moment when he ran over it!) but I'm convinced it allowed him to clock Best Time of the Weekend (on the second-to-last-lap, can you believe it?) at the wheel of our now lighter, louder and arguably--if marginally--more powerful Italian racing machine.
Rats!
I mean: "Congratulations, Eric! Well done!"
We finished in mid-pack and, I believe, 5th in class following our parade of niggling tribulations, but if you score based on fun had and friendships deepened, we came home outright winners. Can't wait to run with that bunch again. It was, indeed, a VERY good time.
So that pretty much wraps up my racing season (unless somebody knows of an available seat at either ChumpCar Laguna Seca 11/19-20, the 25 Hours of ThunderHill in California or the big HSR "Pistons and Props" Endurance Classic at Sebring 
December 2-4
). Those last two are on my birthday weekend, BTW. Gonna be 71 years old, can you believe it? And I know right where I'd like to celebrate it, too: with a steering wheel in my hand, a shift knob at the ready, somebody threatening in my mirrors and some bozo up ahead to try and chase down...
Special times, indeed.