Had my first race of the season at the HSR Mitty at Road Atlanta last weekend and it went pretty well in spite of, well, where should I start? Through a genius piece of personal booking artistry, I gave a pretty well received & highly self-serving Power Point presentation at the Chicago Region SCCA membership meeting last Wednesday night (I got some laughs--and a few gasps--and we sold some books & merch) and Carol & I got home about 
11:30
. Only then I had to be up at 
4:15
 the next morning to make my plane to Atlanta for my first race of the season at the HSR's 40th annual Walter Mitty Challenge at Road Atlanta. Only then my plane got cancelled & I spent 6 hours at Midway trying to sleep in a chair.
Full report on the race coming up in a few days. It went pretty well in spite of missing all of 
Thursday
 as described above & soggy rain all day 
Sunday
. I got to race a Porsche RSR clone (sort of), didn't break or crash it, sold & signed a bunch of books, ate some wonderful food (buuuurp!) and arrived back home with the makings of one hell of a chest cold/snot drip combination.
Full Story coming soon, but I wanted to dash this off in a hurry to plug an event this coming weekend. Linda Daro of MIRPA has organized a collector-garage gathering thiscoming Sunday in Chicago featuring Indianapolis Motor Speedway Museum Historian Donald Davidson (when it comes to motorsports, if he don't know it, it ain't worth knowing) and Paul Goldsmith, whom I've never met but who is one of my bigtime heroes.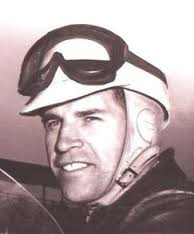 Paul was a champion motorcycle racer for Harley-Davidson in the early fifties, then branched out into USAC and NASCAR stock-car racing (running and winning for folks like Smokey Yunick and Ray Nichels' dominant Pontiac team). He took back-to-back USAC stock car titles, won 9 NASCAR races and drove Offy-powered Epperly and Kurtis-Kraft roadsters at the Indianapolis 500 (scoring a pair of top-5 finishes). Plus Paul was the guy who drove a 421-cubic-inch Pontiac Tempest (!!!) to win the 250-mile "American Challenge" race at Daytona that I wrote about in the last book. Yeah, it was on the oval, but he beat (ahem) A.J. Foyt and Billy Krause in new Corvette Sting Rays (Krause's a Mickey Thompson creation with a 421 motor!) plus a pair of pukka Ferrari GTOs (one driven by Fireball Roberts!).
In a freaking Pontiac Tempest!
So I figure he should be a pretty interesting guy to listen to, so I'll be there. With a few books to hawk, of course...
The shindig runs from 
12-3pm
 this Sunday at the Collector's Classic Car Garage at 2500 W. Bradley Place in Chicago (not far off I-90 at Addison) and it's 30 bucks a head to cover expenses...none of them mine, BTW. For more info & to reserve a spot, please click the link below:
BTW, the upcoming, Full Tilt/Run-On-Sentences/Self-Serving Excuses & Exaggerations e-blast will feature a return to our popular Trivia feature. Big Fun! Cheesy Prizes! Stay Tuned...