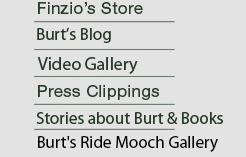 This link is currently down
thanks to the legal types at NBC,
who apparently think we're
trying to get away with something.
We're trying to figure out what?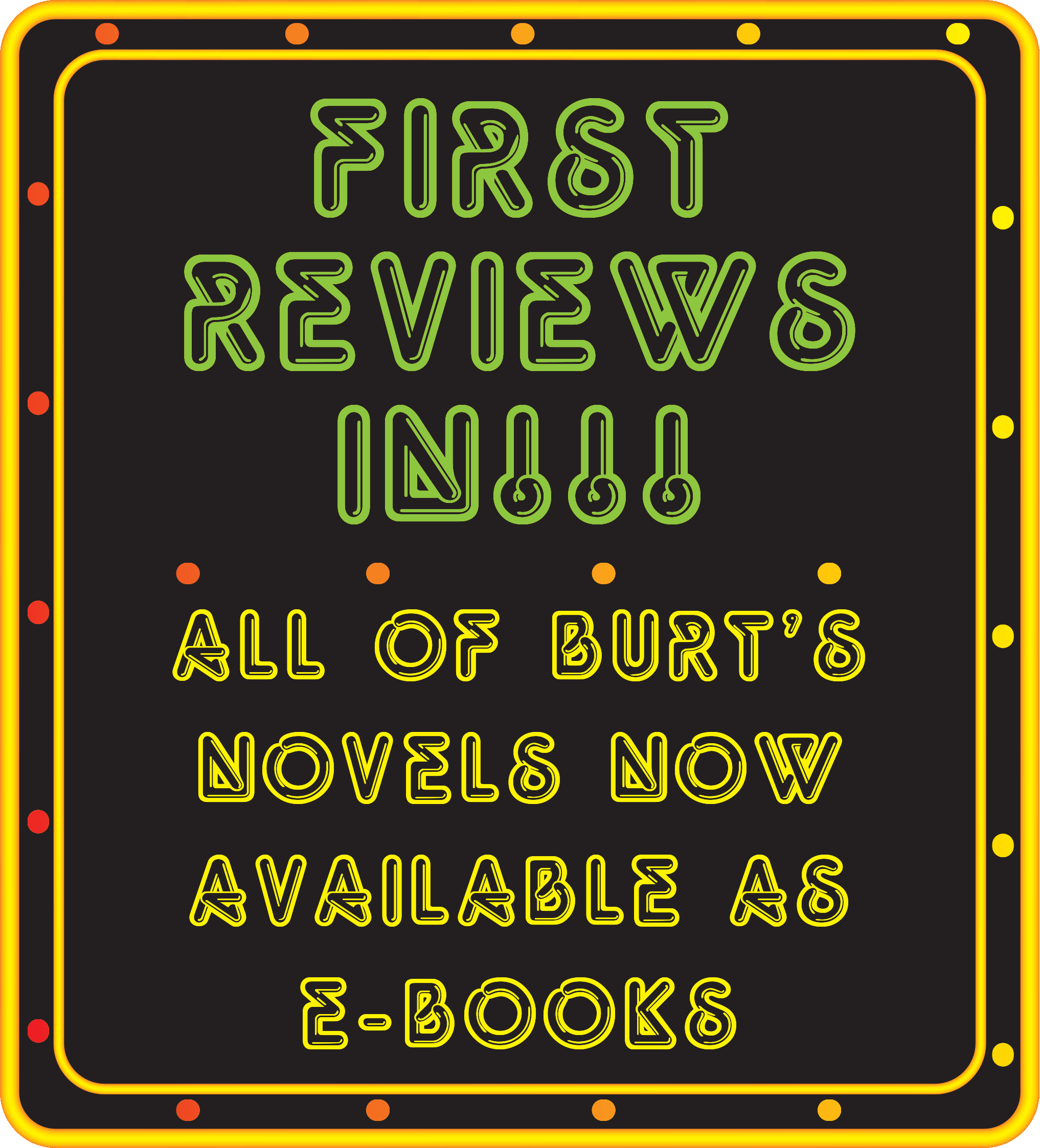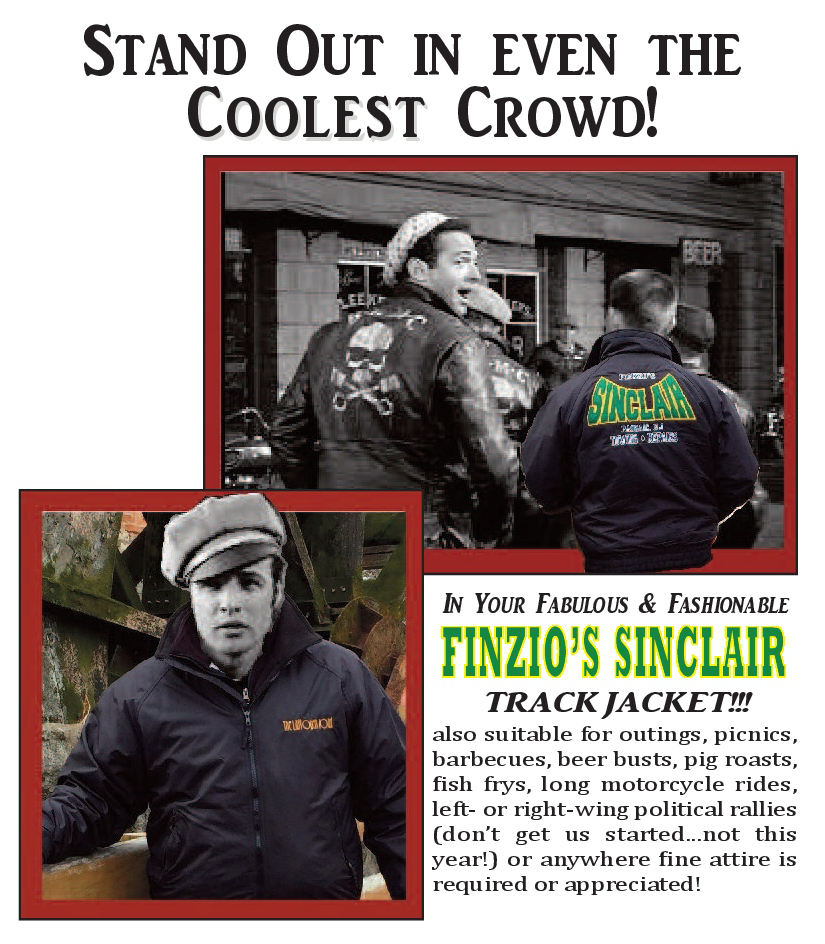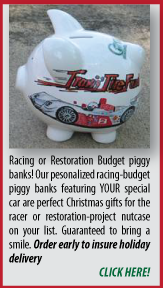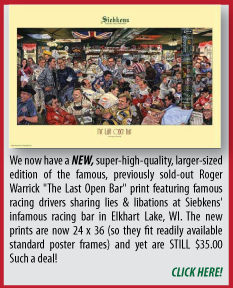 Vintage Motorsport Magazine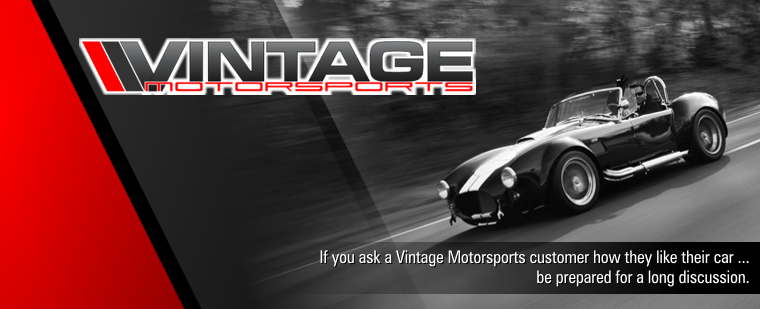 (read more award-winning
"BS" in every issue!)
Cars, Yeah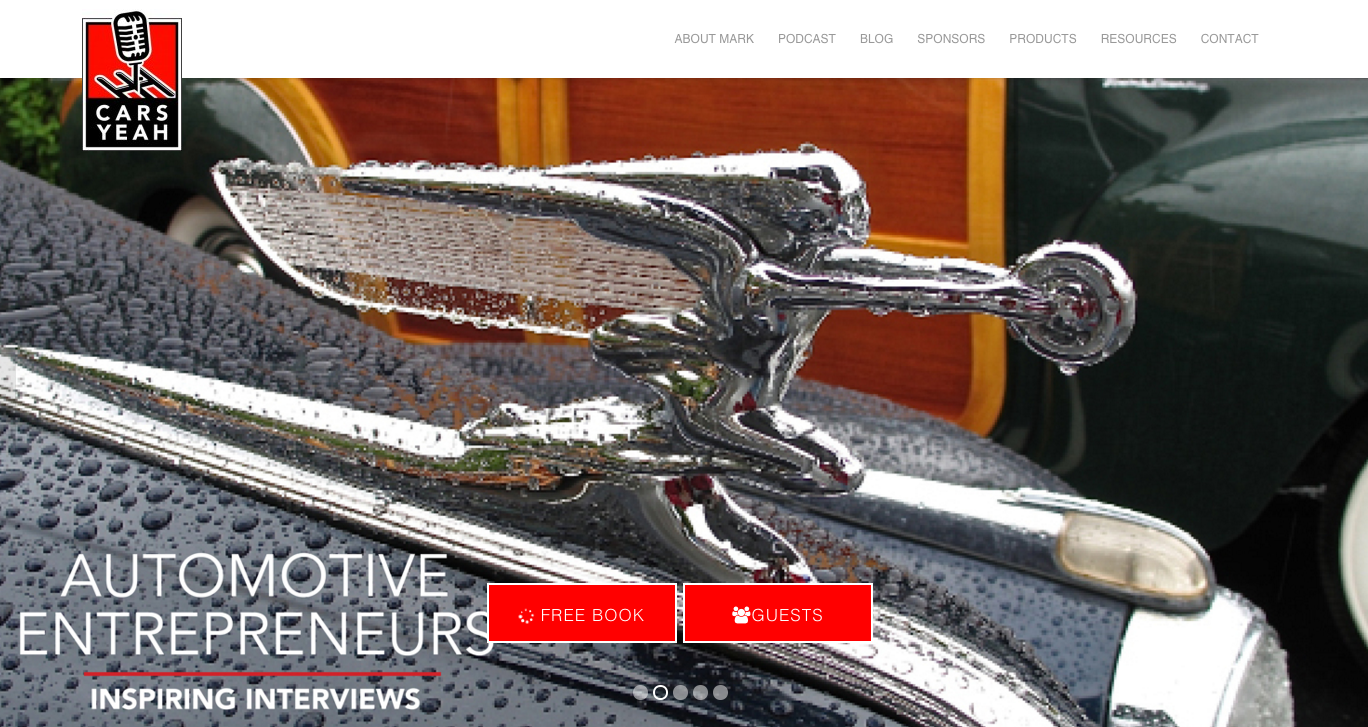 (great audio interviews with the movers, shakers, makers and miscreants of motoring history)
The Vintage Racing League



(a web community of people who love and race cars)
MMR



(great stuff for lovers of European cars and motorcycles)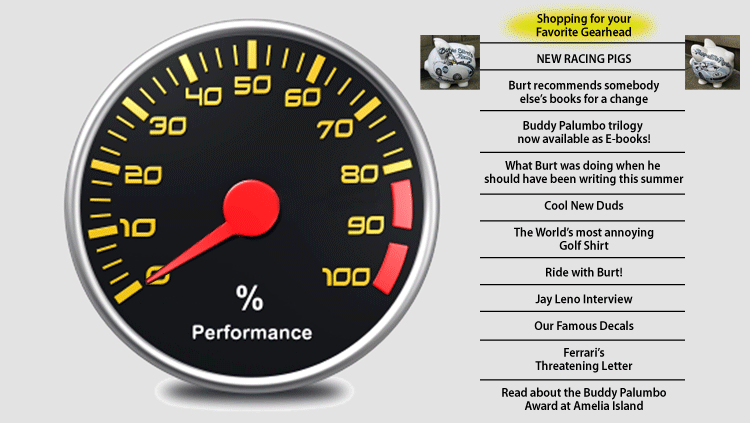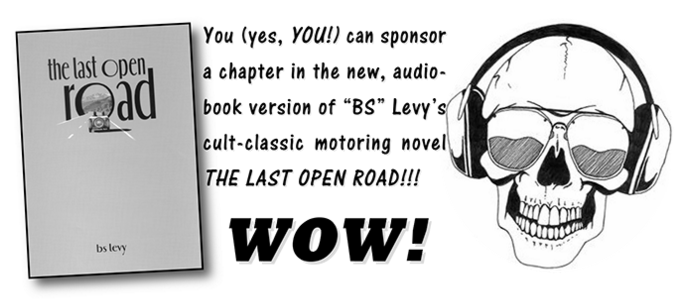 IMPORTANT NOTICE (maybe...)
SENT THE ORIGINAL VERSION OF THIS E-BLAST OUT THREE DAYS AGO BUT IT SEEMS A LOT OF FOLKS WHO NORMALLY GET THEM & HAVE NOT YET OPTED OUT (OR MARKED ALL MY RAMBLINGS, RUMINATIONS, CURMUDGEON INSIGHTS AND MENTAL MEANDERINGS AS "SPAM") NEVER RECEIVED IT.
SO IF YOU ALREADY GOT IT, PLEASE IGNORE EVERYTHING EXCEPT THIS SHORT NEW BIT DIRECTLY BELOW (intended to be read in your very best TV Pitchman voice):
HELLO THERE, FELLOW HELMET-WEARERS, WRENCH-TWISTERS & CHECK-SIGNERS, IT'S THAT TIME OF YEAR AGAIN. RACE CARS ARE BUZZING, HOWLING & THUNDERING AROUND RACETRACKS ALL OVER THE GLOBE (AT LEAST WHEN THEY'RE NOT BLOWING UP, BREAKING DOWN, CRASHING INTO EACH OTHER OR MAKING JAGGED HOLES IN THE TRACKSIDE SCENERY) AND WE'RE ON A BIG PUSH TO INCREASE VISIBILITY & AWARENESS OF MY BOOKS. AND PARTICULARLY IN PLACES/AT EVENTS WHERE FOLKS DON'T KNOW MUCH ABOUT THEM. SO IF YOU'RE INVOLVED IN ANY KIND OF RACING EFFORT FROM NASCAR TO CHUMPCAR, WE'D BE THRILLED TO HAVE YOU DISPLAY OUR FAMOUS THE LAST OPEN ROAD DECALS ON THE BACK OF YOUR RACE CAR!
THEY LOOK GREAT (!!!) AND IT'S BEEN RUMORED THAT THEY'RE WORTH A SOLID SECOND-PER-LAP AT ANY RACE TRACK IN NORTH AMERICA!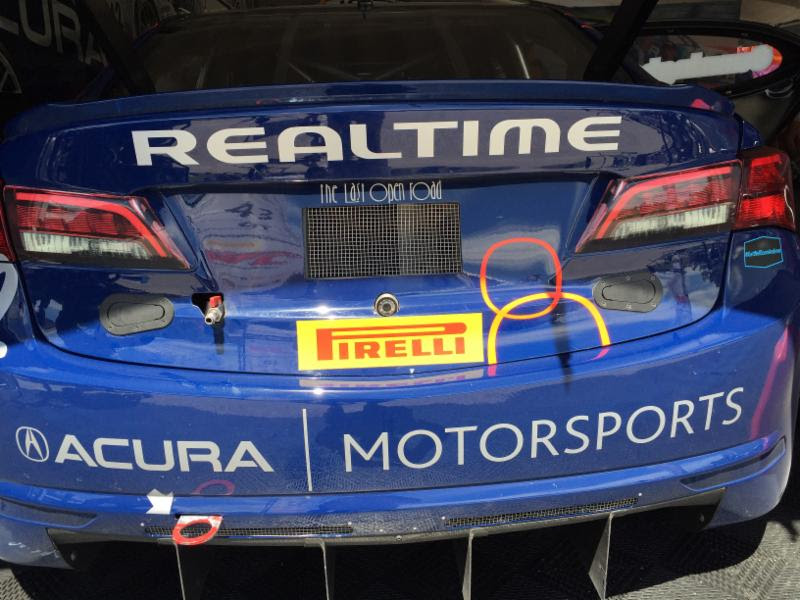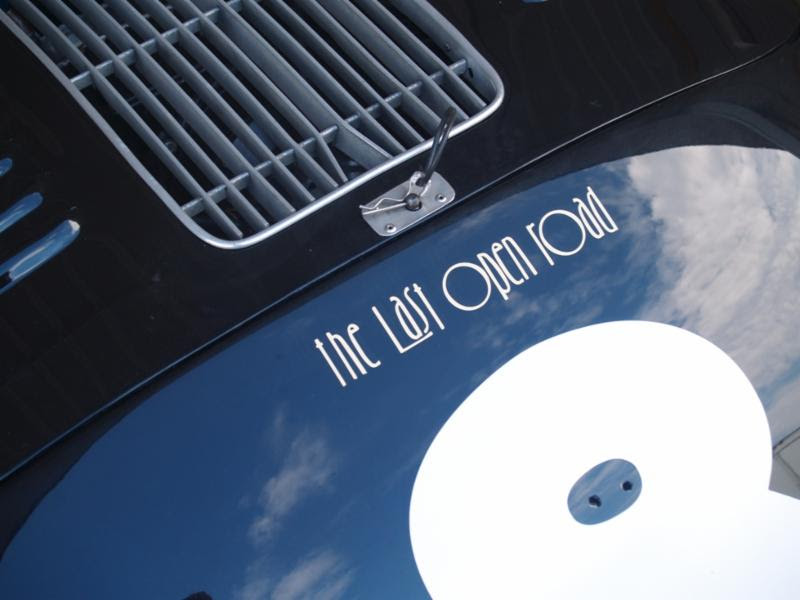 (although whether that's a second faster or a second slower is still very much up to the driver). THEY ALSO LOOK GREAT ON STREET-DRIVEN SPORTS CARS & CLASSICS!
LET US KNOW IF YOU NEED ONE OR 
TWO FOR YOUR RACING TEAM!
WE'LL BE THANKING YOU!
they also come free with the books (you should really read them if you haven't) & are available on the website at:
ALSO...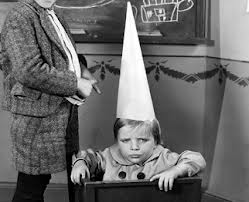 Technical Conundrum (in need of 14-year-old web techie with a lot of patience). Seems folks with certain web browsers have complained that these Constant Contact e-blasts arrive with the right-hand edge chopped off, which renders them unreadable instead of merely idiotic or incomprehensible. Too old & stupid to figger it out myself.
Anybody have any ideas?
The rest of the stuff below is the same exact crapola that went out on June 5th. But a lot of you probably have issues with short-term memory loss (hey, I KNOW my audience!) so feel free to read it and forget it again if you like...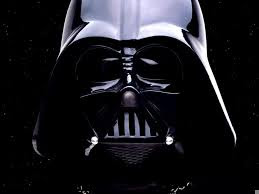 OK, so I've maybe been a little bit rude regarding Porsches now and then. Maybe even more than a little. But most of that was just pure, pea-green envy, since I started out racing against the blessed things in a series--you might even call it a plague--of nickel-budget (not to mention nickel-rocket) Triumph TR3s. Thanks to my inspired engineering and magnificently marginal mechanical skills, I got those sleds to run faster and faster for shorter and shorter periods of time.
Fact is, I rarely finished a race (except at the end of a tow rope) and didn't really know what I was doing. Not that I knew that at the time...
But it was still bloody frustrating, since I'd managed to delude myself into thinking that my sturdy, stalwart TR3 really ought to be faster than those blasted Porsche 356 lumps of tin.
After all, my TR displaced a whopping 2138cc (or even a barrel-chested 2187cc with the max-allowable .040 overbore) while those pesky "bathtub" 356s had a paltry 1582cc to work with with. But the damn things were light. And as my narrator/hero Buddy Palumbo would be only too happy to tell you: "Power helps you in a straight line, but light weight helps you EVERYWHERE!"
Then add in high quality materials and manufacturing, a wide track, a short wheelbase, fully independent (if somewhat wonky) suspension design, a rearward weight bias that made the damn things really squat and squirt out of corners (at least if you drove them properly, otherwise you found yourself motoring off backwards into the weeds) and a racing-style transaxle with a mix-and-match gear stack that could yield up four truly usable track gears and put your motor right at its torque peak coming out of key corners. And then do it all over again when you grabbed for the next gear. And you could get all the bloody ratios--fifteen of them!--right right over the counter from Porsche. So long as you could write the bloody check, anyway...
You could never get anything like that for a traditional British sports car.
Plus the damn things were legal with fully homologated aluminum doors, hood and decklid, which helped bring them in at an impossibly light 1610 lbs. Or, in other words, roughly 400 lbs. lighter than my TR3 (which I could never get down to minimum weight anyway without drilling and cutting so damn much it wound up with the torsional rigidity of a damp pizza crust (see pics below & please note the excellent cosmetics & prep work I was capable of back then...BTW, "STERCH'S" sponsor name on the nose in pic #2 was a local bar run by longtime friends who would kindly allow me to run a tab during racing season!).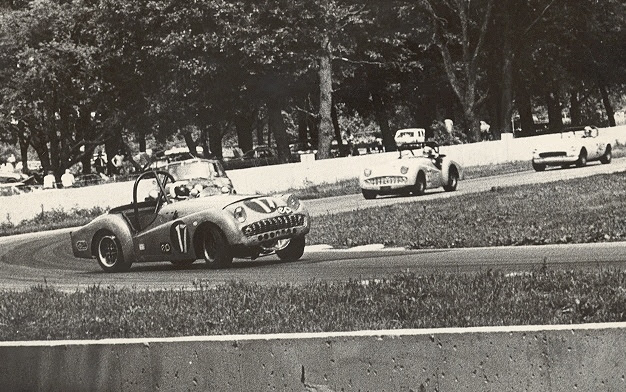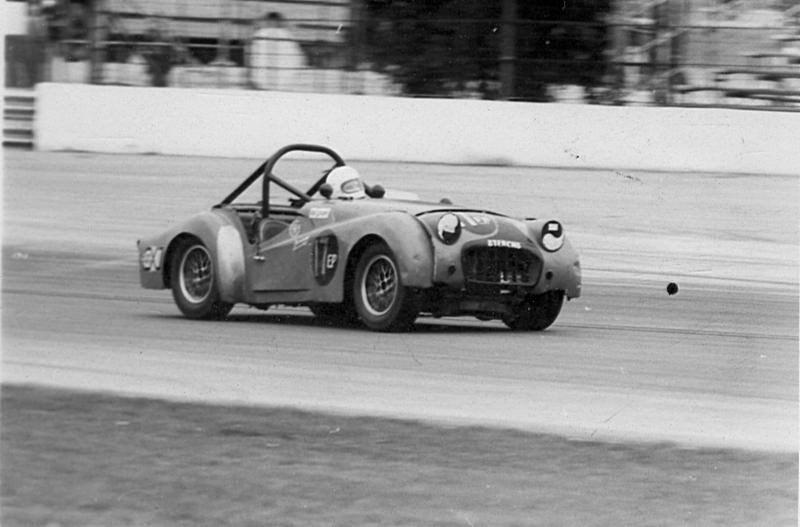 Bottom line is I sat on a lot of front rows but got hammered pretty regularly by the better Porsches. Even some of the average Porsches. It helped that most of them made it all the way to the checkered flag...the bastards!
So maybe I'm still a little bitter.
Or disgruntled.
Or both.
Needless to say, my TR3 trials and tribulations ended with the same sort of style, grace and elegance with which they began: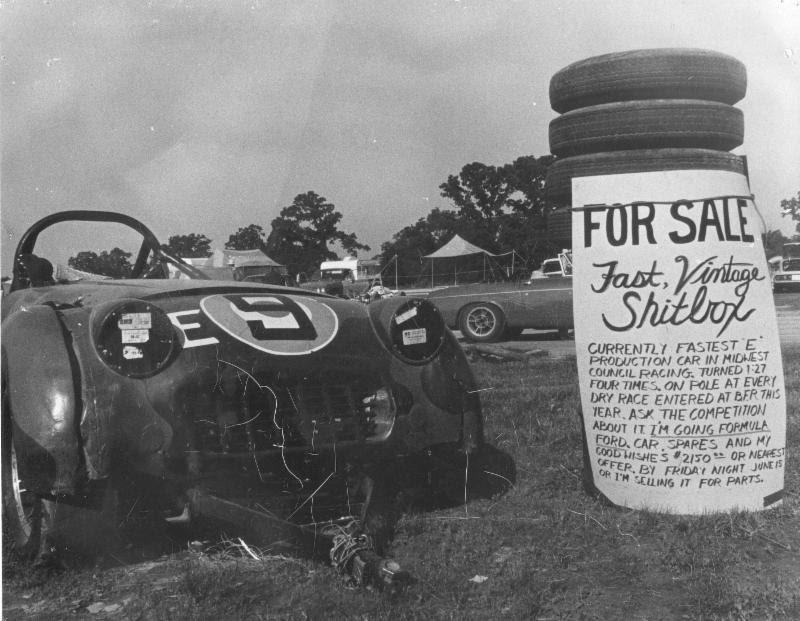 Now they taught me back in school about fair play and being a good sport and respecting folks who do a better job at something. Even if they do it at your expense. But that always tends to come with a shot glass full of bile, and I don't think you're normal if it doesn't make you wince when you toss it down...
But that's all in the distant past, and so I was more than happy to let bygones be bygones, swallow my alleged pride and jump at the chance when longtime friend, HSR sanctioning-body President and desk-where-the-buck-stops Head Guy at Heritage Motorsport David Hinton arranged a drive for me at this year's 40th annual Walter Mitty Challenge at Road Atlanta (where Porsche was the featured marque) in one of Porsche's most iconic and successful racecars: the RSR. Or at least a clone of one, anyway. And that's me in the yellow 05 below (excellent Mitty pix by Robin Thompson):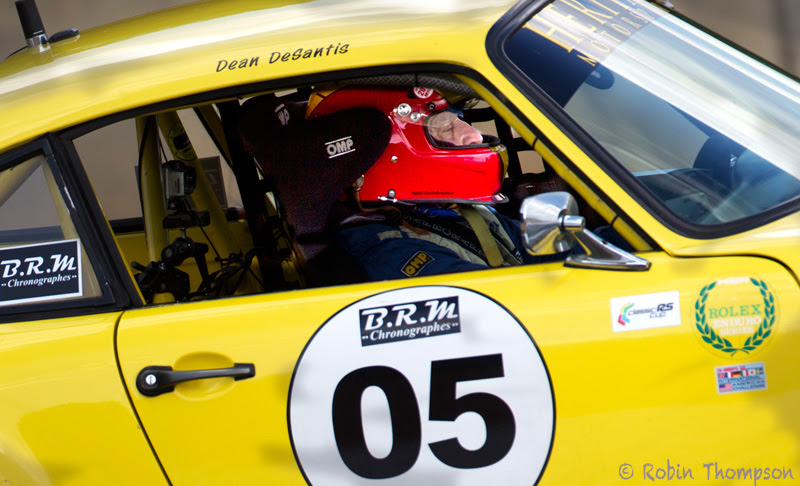 For the record, David Hinton is a transplanted Brit and also came up running against the dreaded Porsches in an ungodly fast, Frankenstein-Monster Jaguar XK120 (see pic below) and he'd be leading them often as not (or at least be in the mix at the front of the field) until either the checker fluttered down or an axle sheared and a wheel flew off. But of course all of that is forgotten & forgiven now because there are so damn many Porsches littering the Heritage Motorsports shop floor in Clearwater, FL (along with a lot of other cool stuff) and hordes of the blessed things sending in their entry fees in for all the HSR races.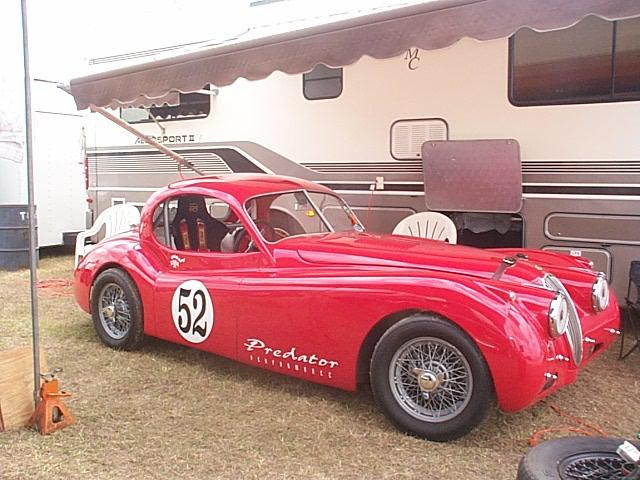 In any case, we witnessed lots of entertaining Porsche racing at Road Atlanta this year, including acknowledged Pooch experts Todd Treffert (black 3.0-liter RSR on the inside) and Fritz Seidel (blue IROC RSR on the outside) squaring off several times, with each earning both glory and frustration in the process.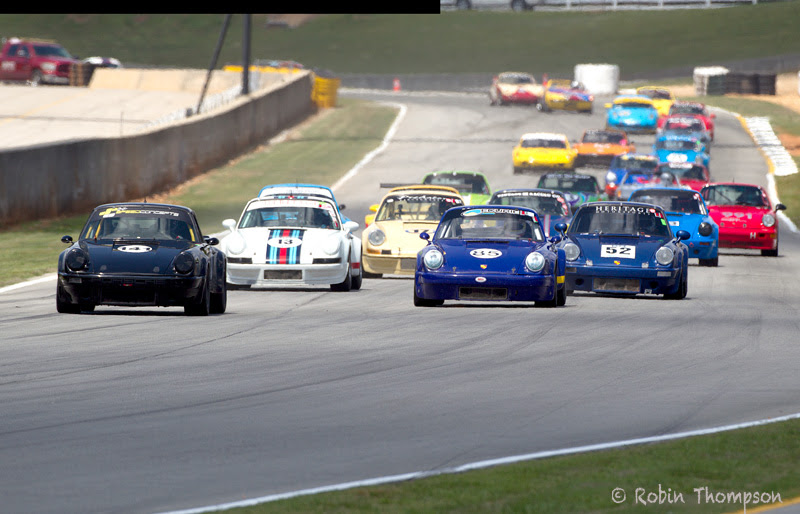 Porsche also provided endurance-racing star Hurley Heywood holding forth in the hospitality tent Saturday evening, and we enjoyed the usual and eclectic (!!!) Mitty melange of oddballs, orphans & misfits (yes, that's a VW Karmann-Ghia being pursued by an SCCA-style Fiat X/19 with a more, ahem, "traditional" MGA coupe making room on the outside below):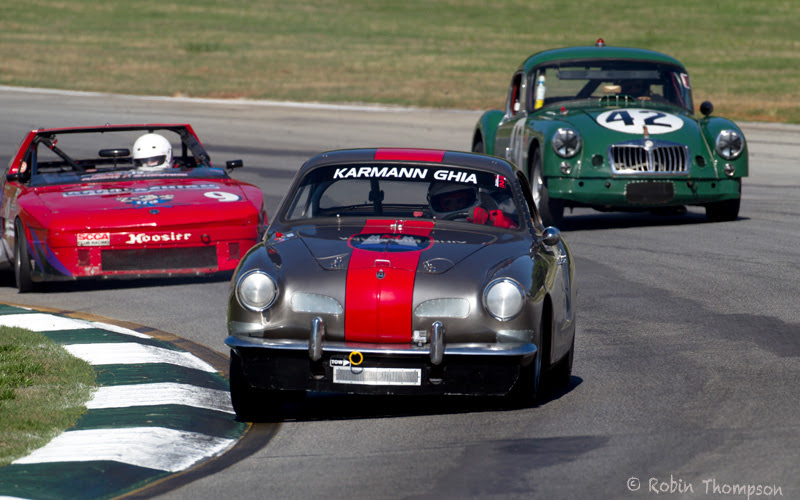 You can read all about my craven run to The Dark Side (plus my event report) in the next issue of VINTAGE MOTORSPORT magazine (you should really have a subscription...blah, blah, blah). In spite of leaden skies and soggy rain all daySunday, it was a spectacular event and I've got to hand it to both the HSR organizers and my friends/colleagues from Grassroots Motorsports/Classic Motorsports magazines, who have really brought a lot of the fun and participation back to the event on both sides of the fences. HSR exec and diehard enthusiast George Tuma arranged a tent-full of Mitty Memorabilia in the paddock (Look...it's me with hair!) and also asked me to write a piece about The Mitty's 40th for the race program. I was so happy with the way it came out that I've copied it below. Way below, in fact. Like at the end of this e-blast, so you won't have to wade through all five pages to get to the next section. Or the TRIVIA...
LOU'S PARTY
I would be remiss if I didn't mention my great friends Lou and Abby Natenshon and the wonderful odd cars/strange characters/good eats (there's always lots of lox!) house & garage party they host every spring just so all of their enthusiast friends can get together and see who's still ambulatory and/or not under house arrest. Always a great time and regularly draws the most eccentric and eclectic group of automobiles (and people) imaginable. See a few representative pix below: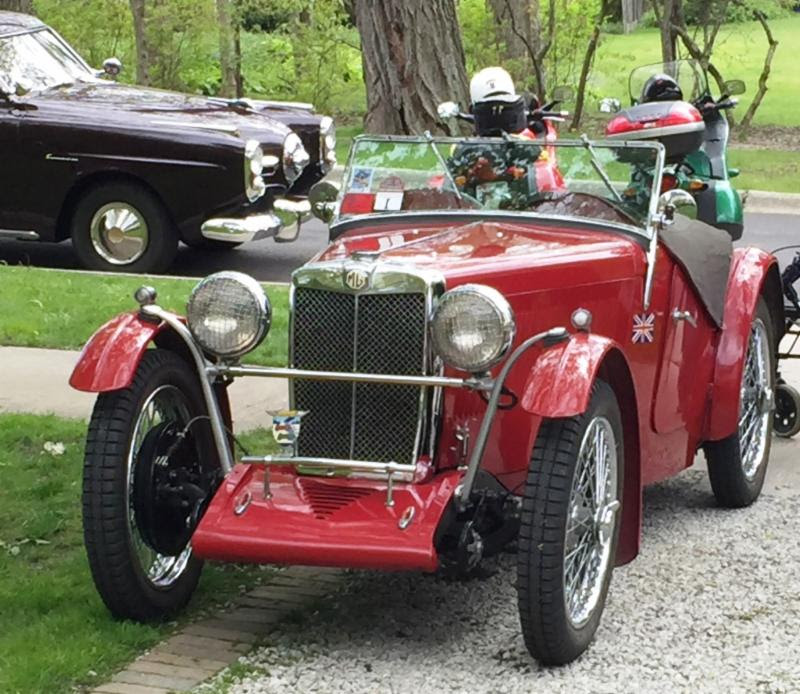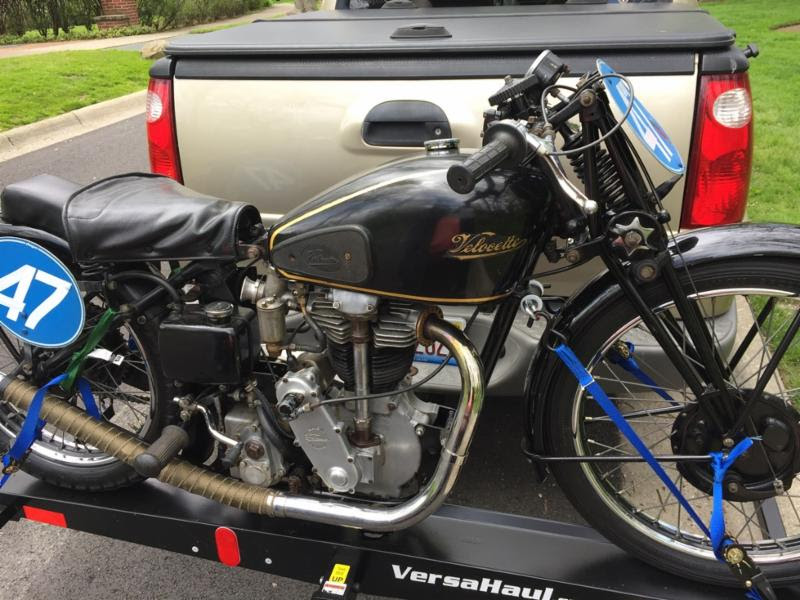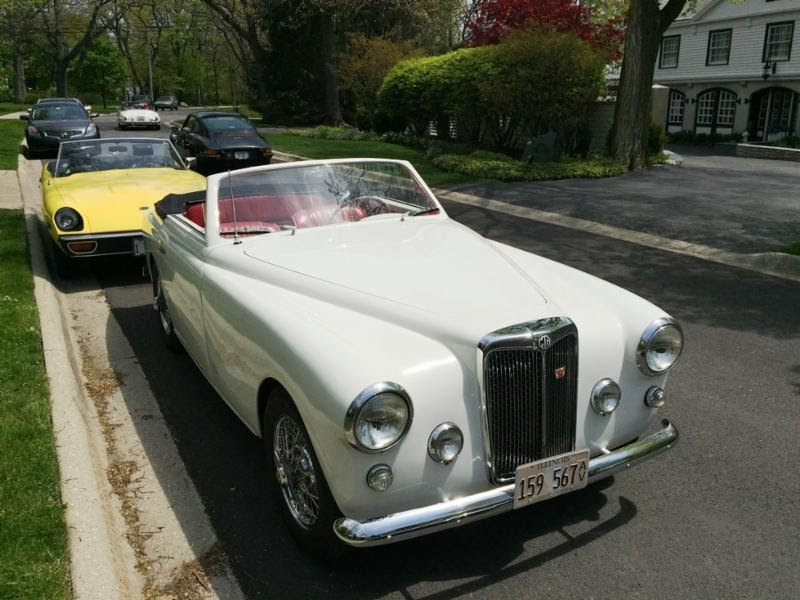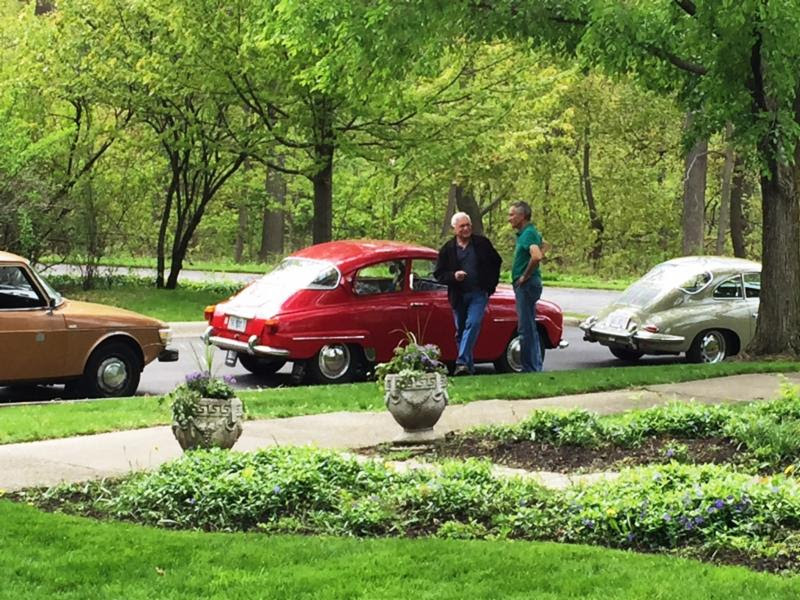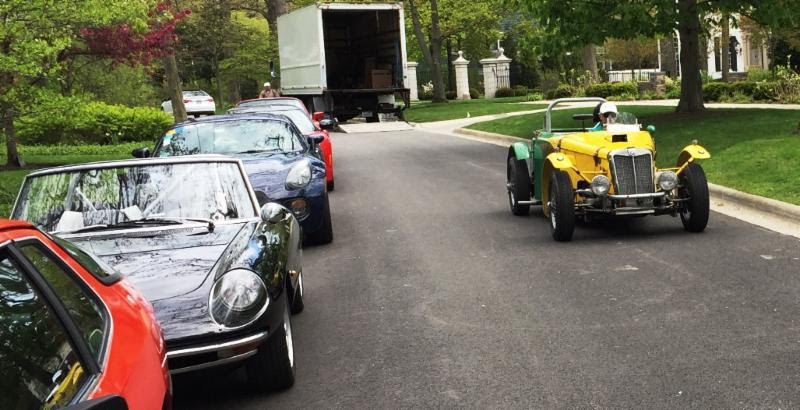 That last one (above) has special meaning, since it's mutual friend Pat Morse road-testing Lou's borderline hideous MG/Ford V8-60 contraption ("hybrid" hardly does it justice) which had just undergone some major re-working at our good friend Mike Alexander's fine shop in Port Washington, WI. Seems before (as I know from personal experience) it tended to overheat or start blowing out mosquito-abatement grade clouds of oil smoke after a lap and a half at Blackhawk (or half-a-lap at Road America).
It is, however, the only one of Lou's racecars that has never tried to kill me.
In any case, thanks to Mike it is now running with promising vigor and vitality. So much, in fact, that Pat managed to snap an axle shaft whilst demonstrating how to attract attention by getting a feeble chirp off the rear tires on takeoff (BTW, Mike Alexander did NOT work on the rear axle assembly, save for checking fluid level).
Needless to say, Pat was embarrassed, humiliated and chagrined to have to be pushed back to Lou's garage sans internal-combustion power, but there's a silver lining in that Pat is an old MG T-series racer himself (we need not say how old) and had a set of hardened rear axle shafts in his home garage to offer as replacements (at No Charge, by the way, which is somewhat out of character).
Call it just another chapter in the ongoing, oft-repeating, comes with its own, fully orchestrated string accompaniment saga of "Hard Luck Lou"...
But Lou assured me on the phone the other day that it's all been put right and has promised me another run in the car (for more than a lap or two, one hopes) at VSCDA's Blackhawk event on Fathers' Day weekend. Looking forward to it. I'll also be hawking books, etc. out of the VSCDA Hospitality Tent and trying to cadge a few drives in assorted Triumphs, as Blackhawk is this year's KASTNER CUP event for all the diehard old Triumph racers, and will surely attract racing Triumphs from all over the country. Most of which will hopefully be more expertly race-prepared and more skillfully and sympathetically driven than those of my own wild, impetuous and ill-informed youth pictured at the top of this e-blast.
VSCDA Blackhawk is always a wonderful event, and hope to see y'all there!
FATHERS' DAY GIFT-GIVING!!!
Well, it's that time of year again (although any time of year will do) when you really need to be thinking about people who may never have read--or maybe even heard about!--my books. We need you to keep spreading the word!

They make great gifts, come complete with our infamous decals and whatever inscription, personalization or degrading insult you may require, last virtually forever (at least if you don't put a match to them) and offer countless hours of historically and mechanically accurate amusement & enjoyment. Not to mention sweet relief from watching the latest round of utterly horrifying social and political news on TV.
So PLEASE CLICK HERE to send someone you know on a wild sports-car ride through the America of the 1950s (special pricing on full sets & also available as e-books for those with 14-year-old grandchildren who can show them how to make it work).
MAMA @ ROAD AMERICA
One of the things I look forward to every spring is the MAMA (Midwest Automotive Media Association) Spring Rallye at Road America, which amounts pretty much to:
1) an opportunity for car manufacturers, their PR people, occasional engineers, support crews, hired-gun ride-along folks (would you want that job?) and spin doctors to access a moderate horde of media types en masse to show off their latest offerings.
2) an opportunity for a moderate horde of shameless freeloaders (pardon me, make that "media types") to stay in the lovely Osthoff Resort on Elkhart Lake, get fed like it's a blessed North Shore Bar Mitzhah, listen to some very pleasant & accommodating people who would ever so much like you to write nice things about their cars and drive an amazing selection of the world's latest, best and brightest on-track at Road America, on the surrounding & scenic country back roads, go bouncing and teetering over a hilly, woodsy, challenging & highly hemmed-in Off Road course (4x4s and the like only), run an autocross in some of the handier little coupes and roadsters currently on sale and do a little go-karting just for fun. Plus enjoy a very nice dinner (prime rib? shrimp and scallop pinwheel? a little more chocolate cake?) along with sneak peeks at some brand-new models, an open bar before & during dinner & yet another open bar along with a lot of incessant car chatter at Siebkens later on.
What's not to like?
The 
Wednesday
 track day started out gloomy and spitting light rain, and I'm both proud and astounded to report that none of the media types went sailing or squishing off into the local scenery. Well done! But then it dried out a bit and we were able to have at it in earnest. There was no way to drive everything, but here are a few quick thumbnail impressions:
As an longtime Alfisiti, old and even somewhat successful Alfa racer and onetime Alfa salesman (during one of the marque's more, ahh, distressed periods here in the US of A) I REALLY wanted to like the new Guilia sedan. Lord knows they've spent a real Trump Stack on advertising (how much is a Super Bowl TV ad anyway?) and all the magazines, mavens and pundits have been going ga-ga over the Guilia since it first appeared (Alfa corporate pic below, as it came out lots better than mine):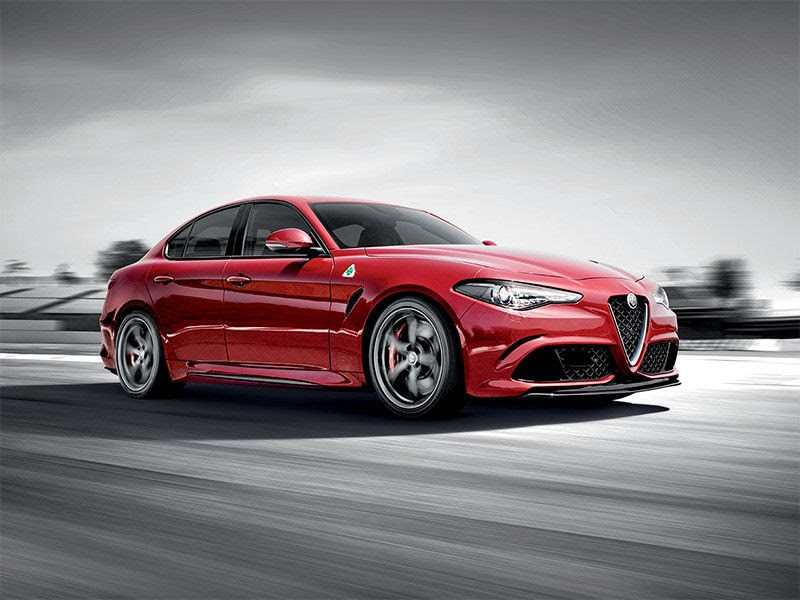 Well, I don't know how many they're going to sell, but let me tell you this: I absolutely fell in love with the thing. And in the right way, too. The qualities that illuminate the Alfa experience have always been sensual, visual and emotional...not some agate-type numbers on a spec sheet (although those are plenty impressive, too). And this new Alfa delivers. It looks great, drives great, is sexy as all getout and seems well put together to boot. But the best part is that it's interesting and exciting and involving. Sure, it looks good from the outside. But it also feels good from the inside. Plus it doesn't feel like anything else, and that's rare there days, even among the aristocrats.
I hope they sell enough of them to pay for the blessed TV ads!
Other impressive rides?
Well, the enthusiastically received Ford Focus RS (scratch any "automotive journalist" and you'll find a wannabe racer lurking beneath!) is a righteous little hooligan of a machine. Great fun! And just the thing for attacking a twisty racetrack, drifting around a vacant parking lot or berserking your way around a housing development on your way home from the market (although the blueberries are going to wind up all over the carpeting and you may well scramble the eggs right there in the shopping bag). The Focus RS reminds me of the great college friend everybody seems to have had who was always egging you on to "have another" or "mash harder on the gas" or do something a wee bit crazier that whatever you originally had in mind. It's a bad influence in the very best way!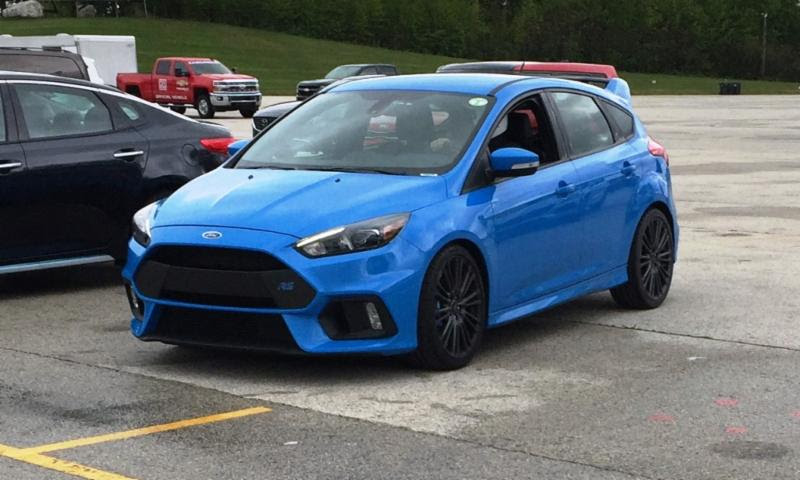 By contrast, The VW Golf Type R is more mature and refined in its madness. But it also goes like stink (it set all 3 of the 3 fastest times at the autocross) and actually feels like a real car rather than an amusement-park ride. Speaking of refined, there were a pair of Rolls-Royce Dawn convertibles to ooze around in (but quite rightly not on the racetrack).
The Subaru BRZ "performance pack" is a nice handling and thoroughly underrated package, and the Mercedes C63 "S" Coupe was downright incredible (incredibly good, incredibly poised, incredibly competent) and reeked of performance, quality and breeding. I liked that one a lot!
I was conversely impressed but not exactly enthralled by the various Lexus performance models (RC F, GS F and the handsome new LC 500), which go very fast and tick all the appropriate specification boxes, but lack the Mercedes' all-of-a-piece feel and composure.
Just so you don't think this is some leftover "anti-Jap car" sentiment from the the sixties, let me say that my overall sweetheart pick was still Mazda's re-imagined and rejuvenated MX-5 (nee "Miata") which is now lighter and handier than the previous edition and available with attractive new "folding-metal-roof" hardtop convertible model for those of us who live outside the sunshine-always 908-whatever zip codes or wish to make it tougher for lowbrow thieves to swipe whatever you left inside.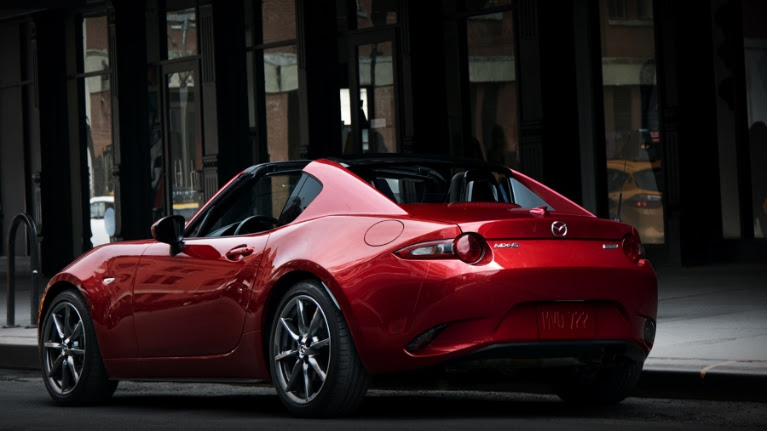 The MX-5 is the absolute Gold Standard of what an affordable sports car is supposed to be all about (light weight, good looks, nimble handling, willing engine, forgiving nature, lovely driving experience, a snick-snick manual stick shift, truly usable real-world performance, easy to live with, rugged as a plow horse, reliable as a 10-lb. sledge & within the reach of those without trust funds, lottery windfalls or shady import businesses). You can't help loving it.
Tried the Fiat version of the same car (Fiat 124) and most of the journos I talked to are evenly split between the Mazda and Fiat interpretations. Personally, I prefer the MX-5, but a lot like the Fiat's turbo engine (lag be damned) and suspension tuning. At least this is one Fiat 124 that won't be saddled with the old "Fix-It-Again-Tony" tag line. Our old shop worked on a lot of Fiat 124s back in the day (mid-1970s) and we liked them a lot. But (and this kind of sums them up) there was this little temperature sensor in the radiator that told the electric fan when to turn on, and they needed to be replaced with such regularity that the local dealer kept a plastic bucket of them up on his parts counter. Like candy, you know?
THE MAMA OFF-ROAD EXPERIENCE!
Off-Roading was never of great interest to me, but the rugged, affable and oh-so authentic-looking crew from Land Rover (who set up MAMA's "off-road" Rallye experience every year and do a stellar job of it) have really brought me around. It's fun and challenging--even if you aren't going very fast--and it takes a certain feel and finesse to do it properly. Neither of which I have, by the way, since I always seem to be wanting to do it faster rather than better.
Hey, scratch a racer and you'll likely find somebody who's not much good at anything else! 
Couldn't get around to more than a few vehicles in the available time, but I did manage to traverse even the toughest stuff in Nissan's appropriately named and Moby Dick-sized Titan pickup (comes complete with multiple cameras to show you where the front wheels are pointing, since you seem to be sitting about three stories up) and came away much impressed. But it was all far easier in the much handier & wonderfully refined Land Rover Discovery, which has benefited from generations of off-road development and feels effortless in even the roughest terrain.
Although I still can't figure out why so many suburbanites who never go further off-road than their own drivers buy the blessed things?
Which brings me to the "concluding statement" every motoring journo tries to put at the end of each piece in order to put things into perspective for John Q. and Fred Average. But I must say I'm at a loss to figure out what consumers can be thinking these days. The top of the market is clogged with cars whose price point, eyeball-flattening performance and "don't-you-put-that-wet-dog-in-here!" interiors are well beyond what's practical for everyday life. It's like you're buying into a tribe or a belief system (you can call it "a brand" if you want) because of what you think (or at least imagine) it says about you.
SUVs are selling like hotcakes thanks to some TV-instigated Crocodile Hunter/Marlboro Man imaging impulse. Even though they offer far less real carrying capacity than a minivan (still the best and most flexible people-and-assorted-crapola-hauling automotive concepts of all time). Not to mention tippy, high-CG handling deficiencies, poorer gas mileage and less visual security for whatever you happen to be carrying...
I could go on.
It's not like I dislike the current popularity of street-bound SUVs, it's that I flat don't get it.
I don't understand why salmon swim upstream to spawn, either.
I also don't get supercars like Ferraris and McLarens and Lamborghinis and Aston Martins (although I'd love to have one if you happen to be throwing one out with the rubbish) because just where the hell are you going to USE the damn thing? If the whole idea is simply to impress parking-lot attendants and dewy young things, I'd suggest buying a puppy. One with big, sad eyes and a fluffy tail. You'll do better (or at the very least no worse) for a lot less money. Plus you'll still have a friendly, loyal, lovable little companion by your side after those dewy young things have gotten wise to your game, called you a Dirty Old Man and threatened to call the cops..
THE LAST BITS & NEW TRIVIA
Last weekend, long-suffering wife Carol & I went in decidedly opposite directions on succeeding days, as on the Saturday we attended/indulged in neighbor Steve Crowley's annual and highly Alfa-centric "SPAMSTOCK 17" lawn party. All manner of exotic Spam-studded and Spam-inspired food creations were on tap, including Spam Tetrazzini (dee-lish!), Spam on a pretzel stick with cheese (about what you'd expect), Spambalaya (spicy & tasty...urrp!), etc. plus deep fried whole turkey torsos (if, indeed, a turkey has an actual torso) for the Spam-averse among us. I see my wife's hand going up. Plus all kinds of picnic fixin's, plenty of cold drinks of various octane ratings and an assortment of luscious old Alfas that all seemed to get there and back home again of their own accord. Except for Steve's lovely black Duetto with repro GTA twin-plug head, which was already home and didn't have to go anywhere.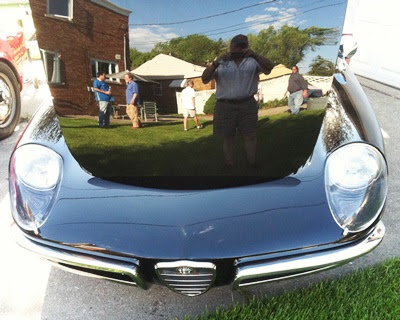 Come Sunday it was time to work off the Spam & fixin's, so Carol and I once again did Chicago's impressive "Bike the Drive" extravaganza. We got up at 5am, were downtown, signed in & on our way by 6:20am and covered the full 32 miles (parking lot to Grant Park, Grant Park to the Museum of Science and Industry on the South Side (see pic below, with the museum behind us), back north all the way to the end of Lake Shore Drive at Hollywood on the north end and then back to Grant Park again to finish and the final short leg back to the parking lot. We were home by 10am, and that included a stop at Whole Foods to buy some overpriced but supposedly raised by the Dalai Lama himself organic fruits and vegetables. We were back so soon, Buddy didn't even feel the need to pee on the living room floor while we were gone!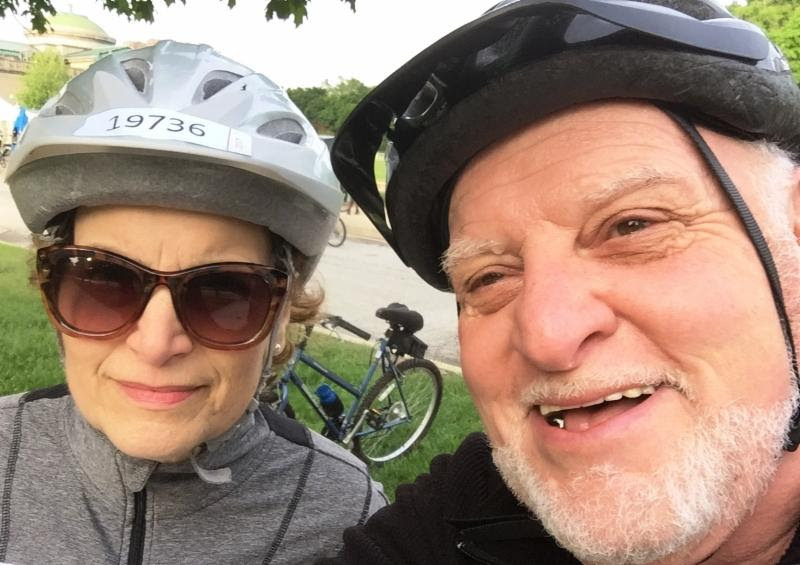 As stated several sections up (I've lost track, but you can go back and take a look if you like), we'll be in the event hospitality tent at VSCDA Blackhawk on Fathers' Day weekend (
June 16th-18th
) and do drop by and buy a book or a shirt or a cap or a print or something. I'll also be signing & shamelessly shilling at the Road America Paddock Shop for the Indycars the following weekend, plus I'll again be instructing at the always-fun 
ALFA CLUB/AUSTIN-HEALEY CLUB TRACK DAY
 (click for more info) at Blackhawk Farms on 
Friday, June 30th
. See you there?
Speaking of Austin-Healeys, we've had this 1954 100/4 BN1 in our home garage (and in several garages before that) since the Mellow Motors days (embarrassing pic below).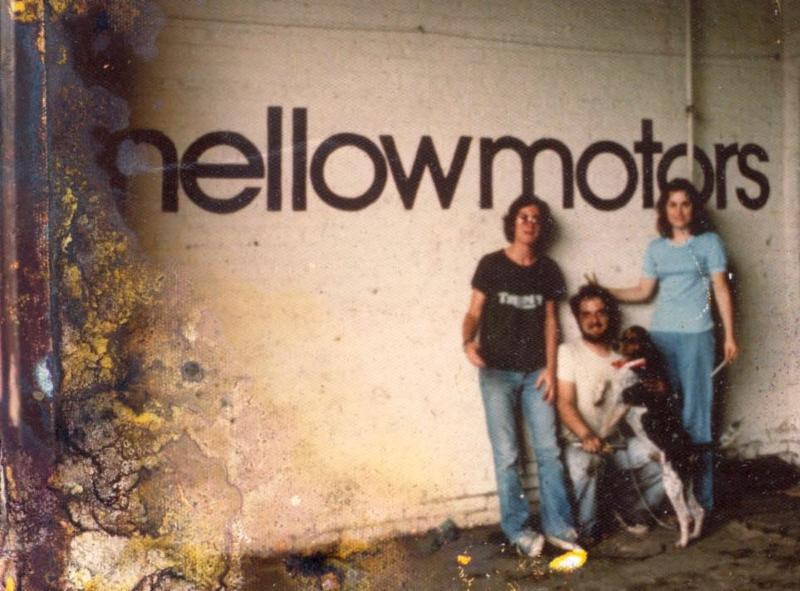 We used to work on it, but then the couple who owned it (who were musicians with the Chicago Symphony, BTW) got this opportunity to play with some orchestra down in Brazil. They didn't have any kids and it was one of those "if we don't do it, we'll probably regret it later on" Incredible Adventure deals. But they had to leave in a hurry, so my cousin Buddy and I wound up buying the car.
It was relatively solid and rust-free, and at one point (I'm thinking around 1976-1977?) it was our basic everyday transportation. Or at least it was until a big snowstorm collapsed the roof of the next-door rented garage it was living in and pretty much flattened the convertible top & windscreen.
I recall I raced it once at one of Chicago Historic Races founder/famous Chicago-area restaurateur and Ferrari trader/seminal BS Levy racing sponsor Joe Marchetti's earliest vintage races at Road America. But it wasn't really race-prepped and didn't have a proper roll bar or anything, and I decided it really needed all that stuff if I was gonna be flogging it around a racetrack. It wound up sitting in the basement garage of one of Joe's north-side buildings for many years, and then I had to move it home when the building got sold and it's been pretty much sitting ever since.
Oh, my son Adam and I were planning to restore it together while he was growing up, but I got involved in other things (you may have read some of them?) and now Adam's grown up and living in California and so we've kinda missed the window of opportunity on that bonding experience. There was a little activity out there when a pair of amorous possums made a love nest out of the trunk many years back, but otherwise it just sat. During which time the relined brake shoes more-or-less welded themselves to the rare, finned alloy Alfin front brake drums so the damn thing wouldn't even roll! So it pretty much just sat there on four fairly flat Kleber tires and looked like it needed a friend.
So the other day Carol and I went out to clean the garage (or, more correctly, she went out to clean the garage and I realized the path of least resistance was to help her out...you married folks will understand the situation) and damn if I didn't get a burst of enthusiasm, pump up the tires (which still held air, can you believe it?), performed a little wrenching and beating and prying and head scratching and dismantling and re-assembling (along with a little creative cussing, of course) and got it rolling again: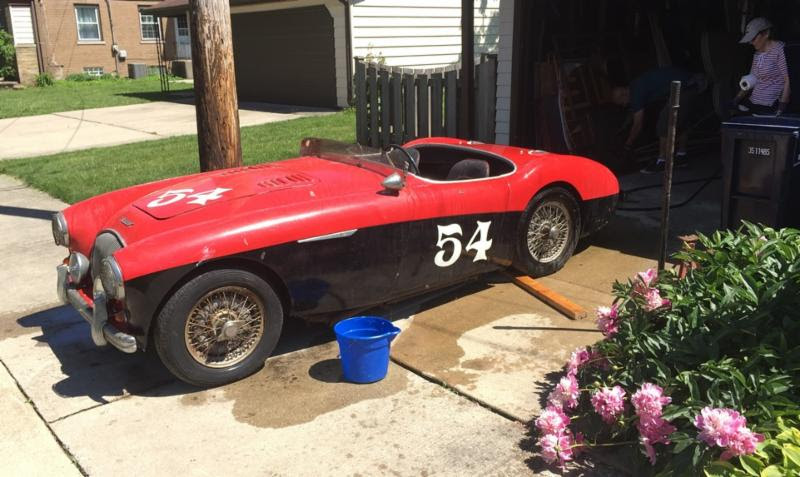 And now I'm torn between going through it and making it a runner again (it's been sitting so long it'll need virtually everything) or trying to find the right kind of home for it.
It deserves that.
And it's a tough decision. All you car guys and gals will understand...    
And, yes, I AM working on the new (last in the series) book and THE LAST OPEN ROAD audiobook project. Honest I am. It's just that everything seems to take so much longer to finish as you get older. Well, everything except one thing, anyway...


LONG-AWAITED TRIVIA RESUMPTION!
Lessee, here. The last trivia was so damn long ago I can't remember, and everybody (or at least everybody here stateside) got it on account of it was a King Midget, which used to be advertised in these little, down-at-the-bottom-of-the-page ads in POPULAR SCIENCE and POPULAR MECHANICS magazines (see below).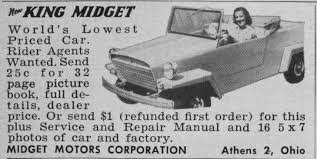 Would love to hear from someone who actually owned one. Better yet, someone who survived a wreck in one...
And now, because of the long wait in between, we have a THREE-HEADED MONSTER of a trivia conundrum (and, no, none of it has to do with the lurid movie poster below)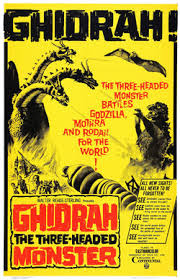 QUESTION ONE (relatively easy?): WHAT THE HECK IS THIS LOVELY THING? BONUS: WHAT'S UNDER THE HOOD?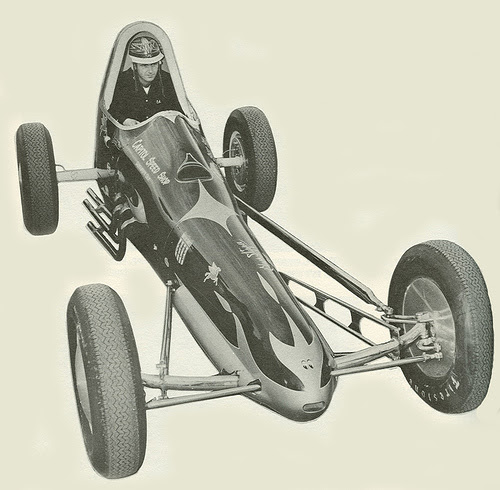 QUESTION TWO (Borrowing from my crusty old early racing career mentor Mike Whelan, who always used to look at my latest, just-finished TR3 racecar project and ask): "ANYBODY DIE IN THAT WRECK?"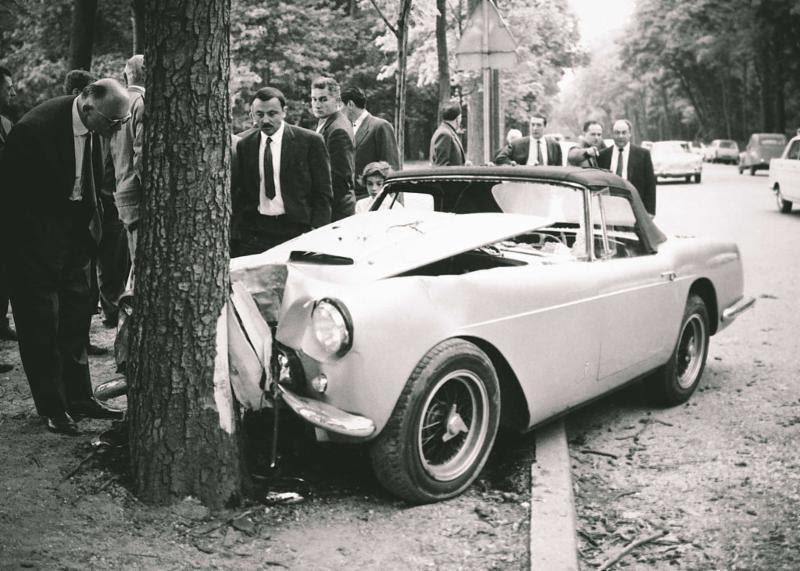 BONUS: BESIDES THE "WHO," WHERE DID THIS HAPPEN & WHEN?
QUESTION 3 (note: we're really looking for help here, since we have no effing idea what this thing is). IDENTIFY and/or EXPLAIN the car below:



AND NOW, AS PROMISED (and as if this isn't already more than enough!), the Mitty Story from this year's race program: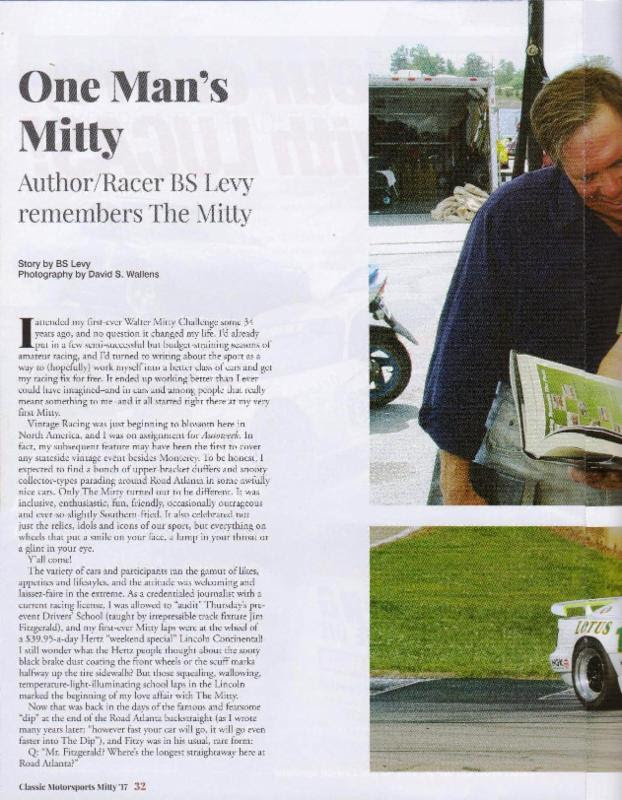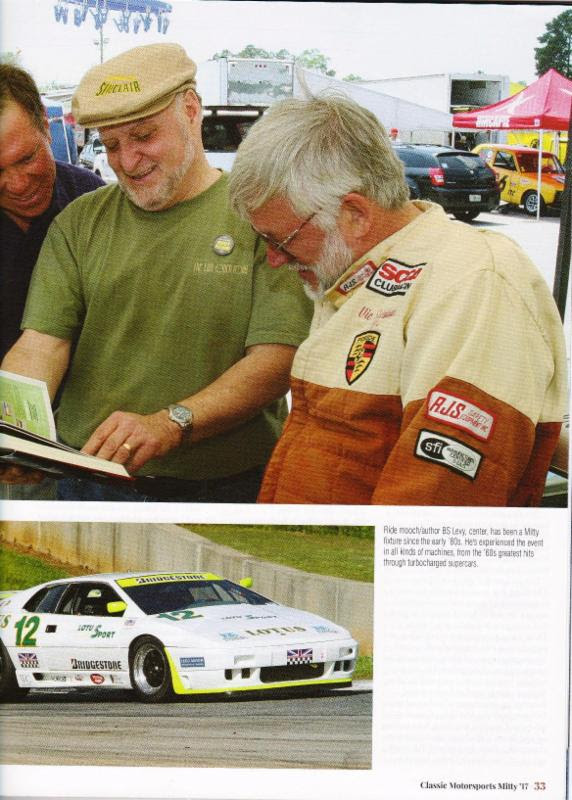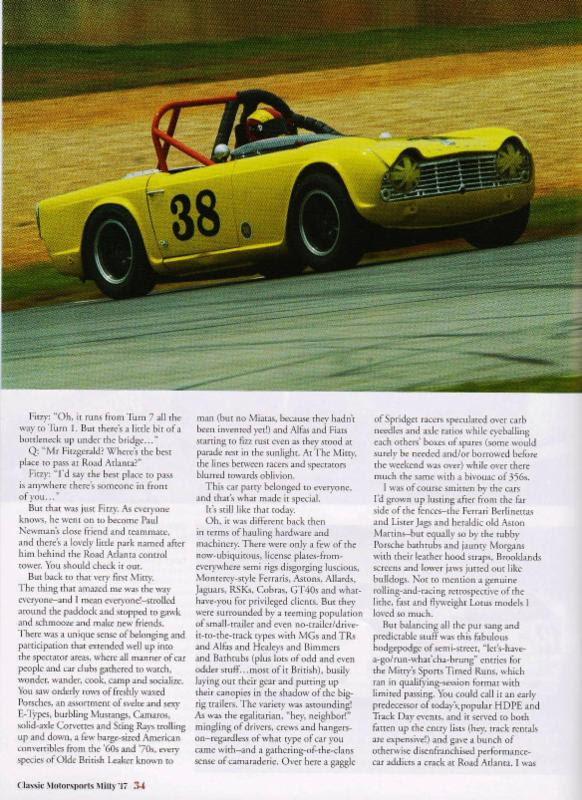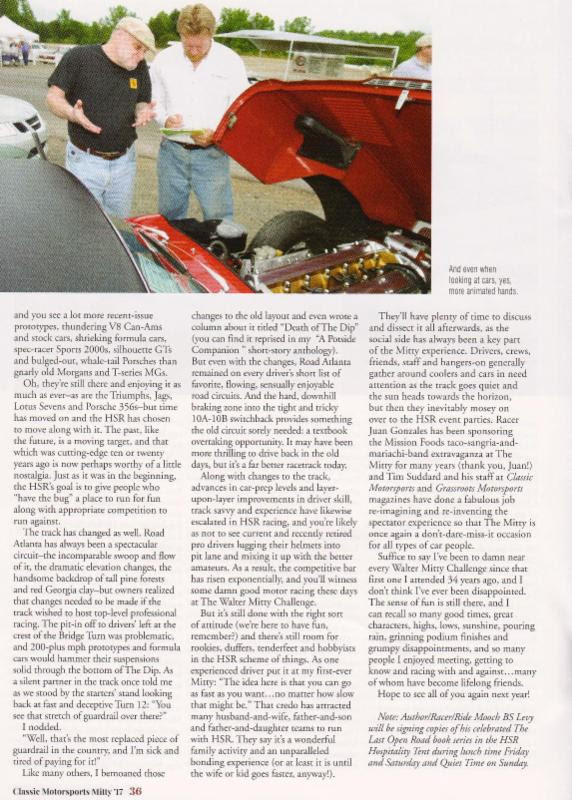 Catch the latest poop & pictures, the Jay Leno interview, Last Open Road swag & highly inappropriate attire from Finzio's Store and the lurid & occasionally embarrassing "ride with Burt" in-car racing videos on the hopefully now fully operational website at: